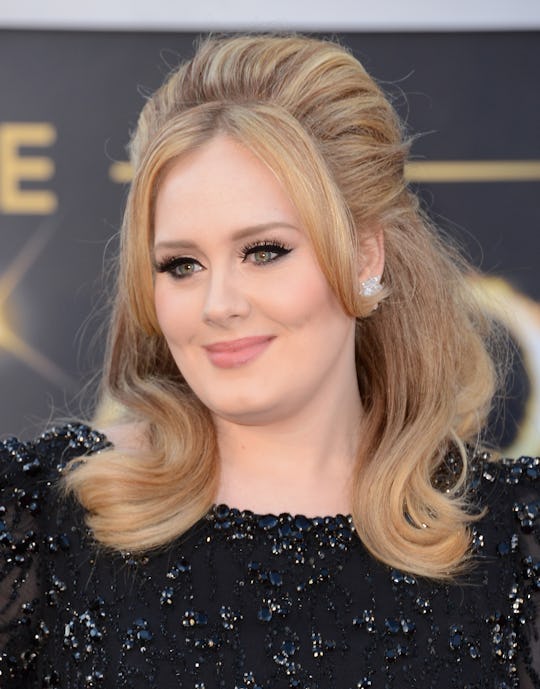 Jason Merritt/Getty Images
Where To Listen To Adele's '25' When It Comes Out, Because You Know You Can't Wait To Get Your Ears On It
Fans have been waiting with baited breath to listen to Adele's upcoming album 25, due out this Friday, Nov. 20. And at long last, the wait will soon be over. Luckily, we've already gotten a taste of what it will be like, thanks to the early release of two already chart-topping tracks of the album: "Hello" and "When We Were Young." And if those two singles are any indication, 25 is going to be huge.
The video of Adele performing "When We We Young," went live on YouTube Nov. 17 and it's every bit as amazing as you were hoping, putting you through a gauntlet of emotions necessary for those days you need to feel, well, the way Adele makes you feel. Performing in The Church Studios, the songstress gives fans a completely different vibe from "Hello," with "When We Were Young."
"My fifth album from now will follow 21," Adele told the BBC Wednesday. "There's nothing I can do about it." In an interview with Graham Norton, set to be screened on BBC One this Friday, Adele admits she nearly gave up music altogether. "I just got really worried that I was never going to make anything that anyone liked again," the singer said. "I started to wonder if 21, being so successful, was enough for everyone. But I realized it wasn't enough for me. So, sorry, I'm here to make your ears bleed again."
In "When We Were Young," Adele's vocals are melancholy and nostalgic, wistful and hopeful, as she makes people start feeling all kinds of about their exes. Here's a teaser to the second track off 25:
Oh man, can you get here already, Friday? Once the album does drop, here are all the places you can find it:
iTunes
The album is already available for pre-order on iTunes, meaning that 25 can be yours immediately on Friday, if you head to Adele's iTunes page. The full-length album promises to bring Adele's continued reign as a transcendent voice in music. Download of "Hello" is obvs, available now.
Amazon
You can order 25 on vinyl, CD, or MP3 on Amazon, where America's virtual superstore's got Adele on lock. Amazon's pre-order services allow members to receive the album (CD or vinyl) the day it comes out.
Spotify
According to The Verge, Adele is currently asking for Spotify to limit access to her upcoming album, which is set for release on Nov. 20, to only premium users who pay the reoccurring subscription fee.
This news comes after the highly anticipated album was rumored to have limited live streaming. If 25 is available on Spotify for free, it is anticipated to smash streaming records, with the album's lead single "Hello" becoming the fastest-selling song of 2015 so far. The music video also broke records on Vevo after scoring the most views in 24 hours with 27.7 million plays. But hey, is it any wonder? It's Adele we're talking about here!
Images: Jason Merritt/Getty Images; AdeleVevo/YouTube (2); Krn Kmr/Flickr; Sosyo Kultur/Flickr; CHRISTOPHER MACSURAK/Flickr