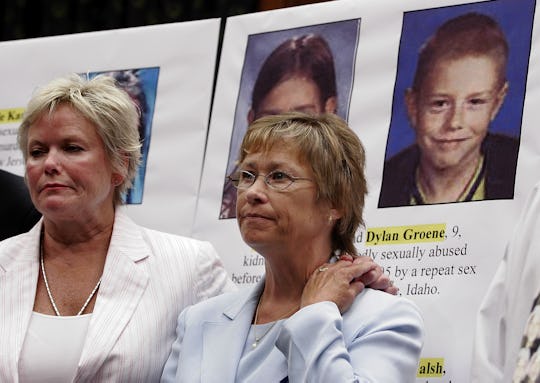 Chip Somodevilla/Getty Images News/Getty Images
Where To Listen To 'In The Dark,' The Podcast About Jacob Wetterling's Disappearance
Jacob Erwing Wetterling was 11 years old when he was abducted from a dirt road in Minnesota. During the years Wetterling was missing, his parents never gave up on hope that he would return home. On Sept. 3, 2016 — 27 years later — Wetterling's remains were found. Now, this long saga of Wetterling's disappearance has been chronicled through a podcast, In The Dark. There are a few convenient places to listen to In The Dark and people should listen, because it will become the next podcast that everyone is talking about.
According to The Washington Post, Wetterling disappeared in Minnesota in 1989 while riding his bicycle on a rural road with two other boys, and was never to be seen again. For years after, police chased down 50,000 leads in the case but all were inconclusive. That was until a man named Danny Heinrich was arrested as a "person of interest" in the case in 2015 and reportedly led investigators to discover the boy's remains, according to The Minneapolis Star Tribune. On Sept. 6, Heinrich admitted to reportedly sexually assaulting, abducting and murdering Wetterling according to The Washington Post. However, according to The Minnesota Star Tribune, Heinrich will not be charged for his crimes against Jacob but will be expected to serve jail time for separate, unrelated charges.
Just four days before the discovery of Wetterling's remains, the announcement about In The Dark — the newest podcast produced by American Public Media was made. Now, due to this discovery and recent headlines, a podcast about Wetterling's disappearance is more topical than ever. Not to mention, Wetterling's disappearance caused "demands for action and made parents more vigilant," and changed how the public is notified about offenders forever. For those as interested in this case I am there are multiple ways to listen to In The Dark — through iTunes, through the podcast's website, through podcast streaming website Stitcher, and through the podcast app on iPhones.
The podcast, which narrated by reporter Madeleine Baran starts off with a simple introduction of Jacob Wetterling and just how big of a deal Wetterling's case ended up being. According to Baran in the podcast's opening episode, "this kidnapping of one 11-year-old boy changed the lives of millions of Americans." Like Serial — a true crime podcast and one of the most listened to podcasts, according to CNN — In The Dark tells the story of Wetterling's disappearance, the investigation, and the conclusion through a series of eight episodes, released throughout the weeks.
While Wetterling's disappearance now has a conclusion after 27 years of unanswered questions, there is still a lot to be said about Wetterling's disappearance and it's impact. In The Dark touches on these things in the podcast's already released episodes, which something fans of true crime stories and Serial season one fans will love.