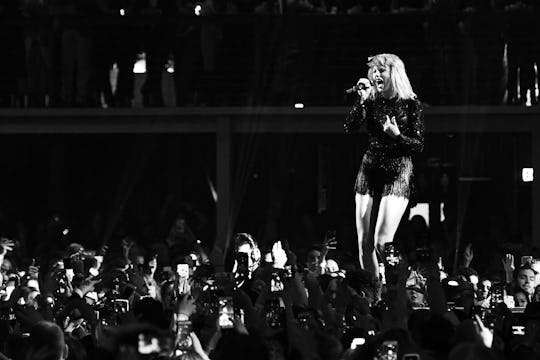 Mike Coppola/Getty Images Entertainment/Getty Images
Here's Where You Can Listen To Taylor Swift's 'Reputation' When It Drops
One of the best things about the month of November is about to take place. No, not Thanksgiving, although any excuse to eat until your pants burst is always welcome. But that's not what I'm talking about. No, in just a few short days, the queen of pop will drop her latest album. So, where can you listen to Taylor Swift's Reputation when it drops? Some streaming services are unsure whether or not the album will be immediately available.
Unfortunately, a new report from The New York Times has called into question just how available Swift's new, highly-anticipated album will be. "Four executives at major streaming services said they did not expect the album to be made available for streaming, at least at first." And while this isn't exactly surprising, considering Swift's long history with streaming services (which I'll delve into later), it's still somewhat of a disappointment for fans who were relying on streaming the album when it first comes out. Romper has reached out to representatives for Swift and is awaiting a response.
However, this news doesn't mean that Reputation will never be available to stream through services such as Spotify or Tidal. Likely, Swift will release the album to several streaming services after Reputation has been out for some time, somewhat like she did with her last album, 1989. However, here are some sure-fire ways to hear the ten-time Grammy winner's new music as soon as possible:
Apple Music & iTunes Are A Safe Bet
As many fans will recall, Swift wrote a poignant letter to Apple Music, asking them to reconsider its policy of not compensating artists during their three-month free trial. Swift's letter was so well-written and powerful, that mere hours later, Apple amended its policy and Swift agreed to stream her music with them.
Since then, Swift and Apple have had a pleasant relationship, with her appearing in numerous Apple Music commercials and releasing exclusive content through them. And all of her singles off of Reputation have been released to the streaming service as well, where they have reached top spots in the company's "Today's Hit" playlist pretty consistently. So, if you want to make sure you can listen to Reputation ASAP, you might want to subscribe to Apple Music. Or, you can sign up for a free trial here, and listen to the album without paying a monthly fee for the time being.
Of course, you could always pre-order or purchase the album through iTunes, which will set you back $13.99.
Buying A Hard Copy Is Always A Good Idea
As one of the world's biggest pop stars at the moment, Swift has a lot of power. She has strong connections to her fans, and has made her passion for buying albums and records known. What's more, as former digital music executive, Vickie Nauman, told The New York Times, Swift is one of the few people who could pull off record, non-digital sales. "Taylor Swift is one of the few artists who has the combination of star power and fan cultivation to truly drive how her music is consumed," she told the publication.
And as special, exclusive magazines will be sold at Target stores worldwide, it's understandable that Swift is attempting to drive sales of physical copies of her new album. And, as every Swift album in the past has included coded messages in the lyric sleeve, it's expected that this album will be no different, and fans will flock to see what Swift is saying. And buying physical CDs is an almost long-forgotten tradition that Swift seems intent on keeping alive.
Tidal & Spotify Are *Hard* Maybes
For now, most of Swift's music is available to stream on both Spotify and Tidal, and all of her new singles from Reputation have been available on the services as well. However, as The New York Times reported, "Ms. Swift and her label, Big Machine, have not announced their plans," for streaming Reputation. And until they do, it's impossible to know if Swift will make the album available to listeners who rely on those services.
Hopefully, Swift will make her new music available on Spotify and Tidal, as Spotify's free streaming service (with commercials) allows so many to listen to music who might not be able to pay for an actual album.
The iHeartRadio App Is A Go
According to iHeartRadio, "on Friday Nov. 10 (beginning at midnight ET), iHeartRadio stations across the country will play a new track off the album at the top of every hour, all leading up to the hour-long special at 8pm local time." The listening party can be accessed through the iHeartRadio app, or on the actual radio, as the provider explains:
The on air, hour long special will broadcast to tens of millions of listeners nationwide across 126 iHeartRadio Pop and Hot AC stations and digitally on iHeartRadio.com at 8pm local time.
So, while it's still unclear which streaming services Swift will release Reputation to when it first drops — if any — there will still be free (and most importantly, legal) ways to hear the singer and songwriter's new album.
Watch Romper's new video series, Romper's Doula Diaries:
Check out the entire Romper's Doula Diaries series and other videos on Facebook and the Bustle app across Apple TV, Roku, and Amazon Fire TV.