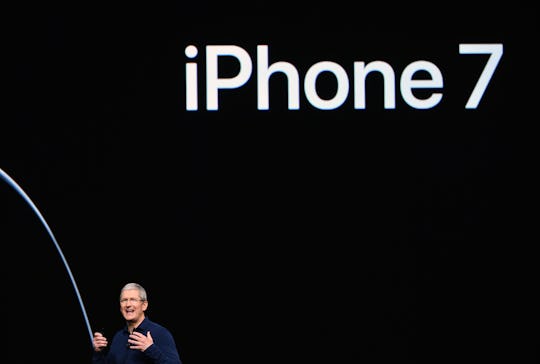 JOSH EDELSON/AFP/Getty Images
Where To Pre-order The iPhone 7, Because They'll Go Fast
It may feel like it's been forever (or a year) since the Apple released a new iPhone. Well, for those eager to get their hands on the latest piece of tech out there, you're in luck. At its highly anticipated annual September unveiling event on Wednesday, Apple announced that the iPhone 7 and iPhone 7 Plus will be on the market by Friday, Sept. 16. It's rumored to be the most exciting iPhone yet, so there's no doubt that folks are amped for the updated gadget. Perhaps the only question that remains is where to pre-order the iPhone 7, because you know it'll sell like very expensive hotcakes.
While the iPhone 7 won't be available for purchase for about a week, Apple fans are able to pre-order theirs beginning on Friday, Sept. 9, and will be shipped a week later on Sept. 16. Customers can place their pre-orders on Apple's website or directly through their Apple phones using the Apple Store app.
It's not officially clear what time the pre-sale will begin, but it's likely to follow in line with the pre-release of the iPhone 6s — it started at 12:01 a.m. PST and 3:01 a.m. EDT in 2015. So, you'll probably want to plan for an extra coffee, or nap, on Thursday to be ready to claim the latest iPhone.
However, pre-ordering the iPhone 7 might be a bit different if you plan on doing so through your phone's carrier rather than through Apple directly. For example, if you are on a payment plan for your current iPhone or are unsure if you are eligible for an upgrade or trade-in, customers should double-check with AT&T, Sprint, or Verizon to see what options work best for them.
Those who want to check their eligibility status with their carrier immediately can use this helpful link through Apple's website, but be prepared to have some very specific account information handy. Alternatively, you can also call and speak to real person from your carrier to confirm that you can place your a pre-order first thing on Friday.
Apple's new iPhones come with three options of storage: 32GB, 128GB or 256GB. Fortunately, the increased storage options don't come with higher price tag, they'll remain the same at $649, $749, and $849 for the iPhone 7, or $769, $869, and $969 for the iPhone 7 Plus.
Another choice to make is to decide on the color and style. The new model will come in five finishes: A matte black matte finish and a deep, high-gloss jet black, which will only be available on 128GB and 256GB models; The signature silver, gold, and rose gold finishes, will also be available in all storage capacity options.
On Wednesday, Apple CEO Tim Cook said that the new model is the "best iPhone [the company had] ever created," crediting the title to the new and faster software, AirPod headphones that don't require being plugged into a headphone jack, one of the most impressive front and rear phone cameras yet with a new Depth of Field photo effect, longer battery life, stereo-sounding speakers, and water resistant capabilities.
Apple's big announcement will surely bring in plenty of traffic to its website and app, so before the iPhone 7 and iPhone 7 Plus make their grand entrances next week, make sure you're fully prepared for a speedy and breezy pre-order.