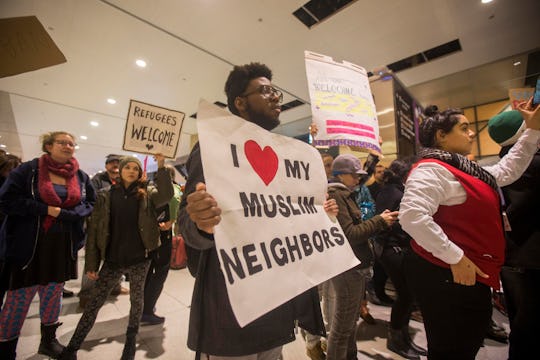 Scott Eisen/Getty Images News/Getty Images
Where & How To Protest The "Muslim Ban"
In the past nine days since Donald Trump became president of the United States, chaos has erupted as people have made it clear that they will not remain silent and watch what is happening in the country, whether it's a social media gag order on various departments to backlash over the White House's statement on Holocaust Remembrance Day. On Friday, Trump signed an executive order banning travel into the United States and refugees from seven Muslim-majority countries — and once again, people are understandably upset. Luckily, there are plenty of places where one can protest the so-called "Muslim ban" — because during times like these, it is important that everyone's voices are heard.
From the Women's Marches all across the nation in response to Trump's history of reported sexism and harmful policies when it comes to women's health, to the protests currently happening in airports, people have made it clear that they will not be quiet. Instead, many are being proactive by protesting Trump's immigration ban, which seems to target one group in particular. On Saturday, thousands of people — including lawyers and politicians — showed up to airports across the nation to protest the order and demand the release of those being detained. These protests are important — they send a clear message to the Trump administration and make waves when people come out in numbers.
Many protests at airports are still currently happening — which means there might be still time to join them. ThinkProgress has compiled a full list of cities where protests against the "Muslim ban" are occurring on Sunday, as well as details about those protests attendees should know. That full list can be read here.
From coast to coast, people are gathering at more than just airports as well: Plazas, and parks, in the streets with signs, standing peacefully in opposition, demonstrators have gathered in over 27 different states. Keeping a close eye on Twitter is helpful in tracking updates on how the protests near you are going and staying on top of any changes that may arise.
Not every protest has to be physical. If you can't make it to the many protests happening on Sunday there are other ways to show your support for those protesting and your opposition to Trump's ban. Donating money to the American Civil Liberties Union is a good way to protest the "Muslim ban" and help targeted groups at the same time; Due to the ACLU's help and presence during the protests on Saturday, a judge granted a temporary block to Trump's order. By donating money to the ACLU, you are ensuring that they can continue to protest the ban and help those affected by it.
It is important that now, more than ever, people everywhere stand up and help those protesting the ban or join them if they can. Our voices matter — let them be heard.