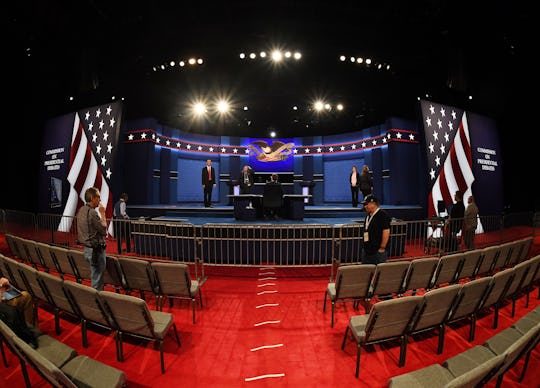 MARK RALSTON/AFP/Getty Images
Where To Read A Transcript Of The Last Presidential Debate
This year's presidential debates between Donald Trump and Hillary Clinton haven't been short on quotable, meme-worthy content (see: Ken Bone). Now that we've arrived at the final debate before the election on Nov. 8, you might want to peruse all the comments made by the candidates throughout the election season. And, if that's the case, you may be wondering where to read a transcript of the last presidential debate and the previous debates, too.
As viewers learned during the second presidential debate, there are still plenty of undecided voters. Over the next few weeks before voters head to the polls, both Clinton and Trump will have to win over those who still haven't committed one way or the other. How will the last debate factor in? According to Vox, the presidential hopefuls were slated to tackle foreign policy, immigration, the economy, and the current state of the Supreme Court system. These are important topics to a lot of voters, so how the candidates' answered will no doubt have an impact on those undecided voters.
The debate's moderator, Fox News' Chris Wallace, didn't waste any time addressing the social issues many have been waiting for: including abortion. The candidates had equally passionate, but vastly different, stances on the legality of abortion:
Clinton, who supports a woman's right to choose (as is laid out in Roe v. Wade), said she would continue to support funding for organizations like Planned Parenthood if she were to become President.
Trump, who is not pro-choice, was very clear that he did not support late term abortions — though based on his response, it was unclear if he understood the concept:
In the past, Trump has also gone on record that he would propose to ban abortions, adding that if a woman had an abortion under such a ban, there would "have to be some form of punishment," according to The New York Times. (The publication also noted that Trump did later recant the statement.)
When Clinton was posed the question of choice in the case of late term abortions, she focused on the personal "heartbreaking" decisions women make in these circumstances and focused on the importance of programs such as Planned Parenthood and keeping abortion legal.
The candidates also weighed in on several other important issues to the American people, including: gun control, immigration, the economy, and national security.
Wednesday night's debate was the final time Trump and Clinton will share the stage before the election, although both candidates still have several campaign stops left to make before everyone heads to the polls on Nov. 8. And if their debate answers will help you decide, make sure to read the full transcript from the third and final presidential debate on The Washington Post's website.