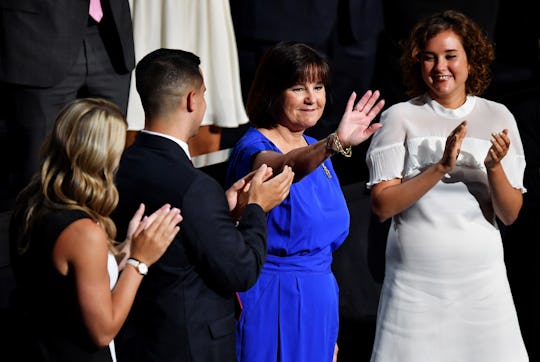 Jeff J Mitchell/Getty Images News/Getty Images
Where To Read Audrey Pence's Published Work To See How Different She Is From Her Dad
Republican Vice Presidential nominee and Indiana Gov. Mike Pence has three children, the youngest of whom is a rising senior at Northeastern University in Boston, Massachusetts. An international affairs major at the College of Social Sciences and Humanities, Audrey Pence has written about international news while living and working in Turkey. Thus far, there appears to be only one place to read Audrey Pence's published work, which she produced while working for CNN International.
Pence been known to stray from her father's strictly Republican message, but has defended these differences. She's described her personal viewpoints as "politically independent, socially liberal," though, in a radio interview with WTHR, Pence said her father has always told her "I am proud of you for having your own opinions and looking into things."
As a part of Northeastern's curriculum, all students participate in a "Co-op Program" where "students alternate classroom studies with full-time work in career-related jobs for six months," according to Northeastern's website. This led Pence to write about international news while living and working in Turkey.
Pence spent one of her Co-op semesters at the Fuller Project for International Reporting. The Fuller Project works to "get more women's voices into the media, and for more independent investigative journalism exposing inequality and injustice against women globally." Pence spent her Co-op time researching and writing for the nonprofit news organization in Turkey. Northeastern chronicled this experience in a university news article entitled "An American journalist in Turkey." Pence recalls that she learned the ins and outs of journalism: how to be discreet and protect sources ("We had to be extremely careful when writing that story when it came to names and locations," she remembers) and how, as a freelance writer, your "story has to fit into someone else's mold instead of you creating your own."
CNN International published a piece on which Pence had a shared byline. Dated April 24, 2015, the story "Why Turkey won't say the G-word when it comes to the Armenians," analyzed civilian reactions on the 100th anniversary of the Armenian genocide.
It's unclear whether Pence intends to fully pursue journalism after graduation. In reflecting on her existing journalistic experiences, she's met many foreign officers that are "all very much gen­er­al­ists rather than spe­cial­ists." This open-ended description is, Pence has said, "something I really iden­tify with." She has plenty of options ahead of her given her extensive foreign reporting and travel experience and, though her undergraduate career is nearing its end, her college career has enabled her "to take different lessons from all around the world and [apply] them. She wouldn't need to travel abroad for a story, though: America's most talked-about political figure works side-by-side with her own father.