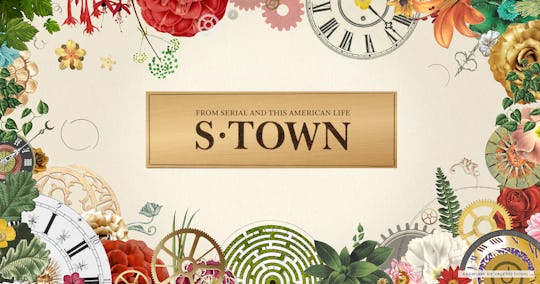 Artwork by Valero Doval
John B. McLemore's Obituary Page Online Is Touching
The new podcast S-Town immediately shot to the top of iTunes charts on Tuesday once podcast fans heard that it was associated with Serial, which many obsessively devoured when it first debuted in 2014, with Sarah Koenig narrating the gripping story of Adnan Syed, who had gone to prison for allegedly murdering his classmate, Hae Min Lee. But, if you start listening to S-Town expecting a podcast at all similar to Serial, you will probably be both a tad disappointed and blown away. Warning: Spoilers from S-Town Season 1 ahead. S-Town is not a true crime podcast, and it instead explores the life and eventual suicide of John B. McLemore of Woodstock, Alabama — a fascinating and tormented man whom many in the town loved dearly. And nothing makes their love more clear than John B. McLemore's online obituary, which has turned into a tribute page for those who knew him and for those who have become fans of the podcast and have been touched or affected by his story.
S-Town, as many fans have come to learn from the first episode, stands for "Sh*t Town," which is how McLemore repeatedly refers to Woodstock, the town in which the podcast begins and where McLemore lives. He tells the podcast's host, Brian Reed, that he despises the town and the way it seems to trap the people who live there — preventing them from seeking out greater truths or questioning the world around them. Reed says in the second episode that McLemore is deeply invested in dozens of horrible issues affecting different parts of the world, and McLemore is deeply bothered that no one else seems to care about those issues. The world's collective apathy seemed to weigh on him constantly.
Still, McLemore wasn't without his flaws. Despite identifying as queer, according to the podcast, he appeared to be a homophobe, and, despite adopting somewhat liberal ideologies, he appeared to have troubling views regarding women and race. Still, he was loved by many, and after his death, his online obituary makes that clear. You can read the obituary here. It's short and relatively uninformative, but what's more interesting is the webpage Legacy.com, which is where you can find the obituary if you do a Google search. McLemore's Legacy page includes beautiful tributes to him that speak louder than just the obituary.
Many of the tributes were from people who listened to S-Town and were touched by McLemore's story. Amber from South Carolina wrote:
John, I couldn't breathe for a moment as I listed to "S-Town" and heard of your passing. Less than an hour of of podcast made me care about you... It's spring time now and I like to think that your garden and maze are blooming wildly in your memory. I hope you somehow know that you have impacted the world... reminded people to pay attention and to be kind. I hope you're at peace.
And S-Town listener Sarah F. from London wrote:
The world is truly touched by your story. Thank you John for providing your light and wisdom for as long as you were able to.
User "P S" from New Jersey wrote:
You mattered every day of your life and you still matter in your death. Who knew I could grieve for a stranger? We are all at a loss without you.
And Layne Carter from Louisiana wrote:
I've been listening to S-Town as many others have... I was so saddened to hear of your passing. Just an episode in I had learned of such a complex intellectual intelligence that I'd never witnessed before. You were such a dynamic person that inspired and will continue to inspire many. You will not be forgotten John B. #STown
Valerie A. wrote:
John B., I did not know you but I miss you. Thank you for reminding me to not waste time. Rest well brilliant man. #STOWN
But then, some of the tributes are older, from 2015, the year that McLemore died. Andrew Warnberg from Alabaster, Alabama, wrote in November 2015:
I am deeply saddened to have learned of John's passing. Truly a musical genius with a true appreciation for music & horticulture. I'm grateful for our last visit back in May to get caught up and take the grand tour of the estate. I will miss playing our game of "The other guy" (where we would name the other members of famous alternative bands) & just hang out listening to music. I'm very appreciative of our 23 year friendship and will miss you greatly.
And Stan, from Birmingham, Alabama, wrote in August 2015:
John, I will always remember you as the eccentric genius you were. My fondest memories of you are from those late night phone conversations we would have. Being a night owl myself, I was grateful to have a friend who also kept odd hours and who could provide me with stimulating conversation during those "graveyard" night hours. Your genius was apparent to me from the beginning of our friendship, and was one reason I always enjoyed talking to you and hearing your sometimes unorthodox views on various subjects. I feel saddened by your demise, and as I look back on our friendship and the things I knew about you, and as I recall the circumstances of your day to day existence as well as your intellectual potential, I realize that you were often what could be called a "tortured genius." I always had great respect for your intellect, and I am grateful that I knew you. May you have peace. Thank you for being my friend.
Regardless of people's opinions about the podcast or about some of McLemore's views, it's clear that he was an intelligent man who will be missed by man, and his important story has affected and will continue to affect thousands of people.