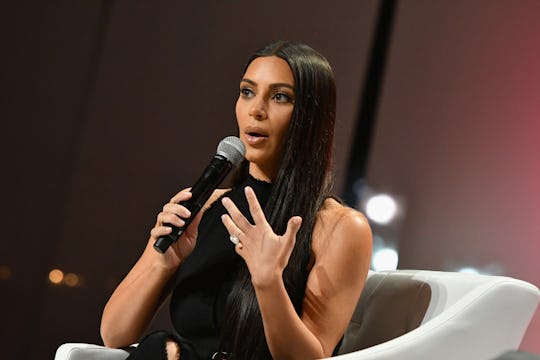 Slaven Vlasic/Getty Images Entertainment/Getty Images
Will Kim Kardashian's Robbery Report Be Released?
Last week, E! dropped a new trailer for the upcoming season of Keeping Up With the Kardashians, showing a short clip of Kim talking about her armed robbery in Paris last October. The trailer promised to explore the robbery on Kardashian's own terms, however, it's not possible to read her firsthand account of being robbed at gun point, at least in raw-form. Fortunately, People this week released quotes from the report, translated from French. According to French newspaper Le Journal du Dimanche, Kardashian's first police report filed hours after the robbery has been released to the public.
Kardashian's account is difficult to read, as it contains harrowing details about the night she was robbed. The 36-year-old business mogul gave this report mere hours after the horrifying incident and even though her police report was translated from English to French and then back to English for People Magazine, it's still a terrifying account of what happened at the No Address Hotel in Paris. According to the report obtained by Le Journal du Dimanche, Kardashian said she "heard a noise at the door, like footsteps, and I shouted, asking, 'Who's there?' No one answered. I called my bodyguard at 2:56 a.m. Through the door, I saw two people arrive, plus the night man who was tied up."
Kardashian was alone in her apartment at the No Address Hotel at this point. She was in Paris for Fashion Week with her older sister Kourtney. The older Kardashian sister decided to go out for the night with Kim's personal assistant Stephanie Sheppard. Kim told police that while her sister and friend's went out, she went upstairs to work on her computer. That was men the assailants arrived at her apartment. She told police that two of the men were wearing police paraphernalia and one was wearing ski goggles.
According to People, Kardashian then described what happened when the men broke in to her apartment, saying that:
It's the one with the ski goggles who stayed with me. He demanded with a strong French accent, my ring. It was on the bedside table. It's worth 4 million dollars. … I told him that I didn't know, he took out a gun and I showed him the ring. They grabbed me and took me into the hallway. I was wearing a bathrobe, naked underneath. Then we went in the room again and they pushed me on the bed. And, it was this time, they tied me up with plastic cables and taped my hands, then they put tape over my mouth and my legs.
She also reportedly told French police that she believed the thieves were not professionals due to the manner in which they tied her up. Kardashian was eventually able to break free from her ties and call for help.
People reports that after filing her police report with French authorities, Kardashian immediately flew home to be with her family. Since arriving back in the United States, the social media star has stayed away from the apps that helped build her empire. Recently, though, she's made a return to Twitter and Instagram sharing photos of her beautiful family. We're so glad she's back on social media, but more importantly, we're glad she's safe.