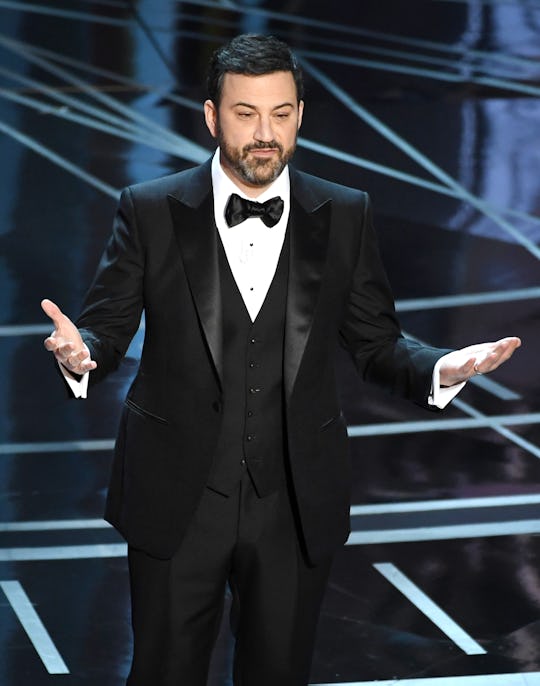 Kevin Winter/Getty Images Entertainment/Getty Images
Rewatch The 2017 Oscar "Mean Tweets" Right Now
As is apparently now customary for award shows hosted by late night comedians, the Oscars featured one of its hosts very #onbrand segments, much like the James Corden-hosted Grammys did earlier this month with its "Carpool Karaoke" bit. At the Oscars, host Jimmy Kimmel did a mini version of his late night talk show's "Mean Tweets" segment with Oscar contenders. Considering it aired pretty late into the already pushed back telecast, some folks might be wondering where to rewatch 2017 Oscar "Mean Tweets." If you missed it, it'll be re-airing on Kimmel later this week.
The snippet that aired during the Oscars featured some of this year's biggest nominees like Ryan Gosling, Natalie Portman, Lin-Manuel Miranda, Casey Affleck, and Emma Stone, as well as stars from some of the year's biggest hits like former nominee Felicity Jones and former nominee Miles Teller. Heavy hitters like Whoopi Goldberg, Jessica Chastain, Eddie Redmayne, Tilda Swinton, Jeff Bridges, Samuel L. Jackson, and Robert De Niro also joined in for the fun. If you're unfamiliar with the bit so popular that it had its own, romance-sparking storyline on Scandal last season, it basically features celebrities whom Jimmy Kimmel forces to read mean tweets about themselves written by internet trolls. Hilarious for us, potentially traumatizing for them. Here are the mean tweets that aired during the Oscars.
It looks like we may only have gotten a taste of "Mean Tweets" Oscars Edition, however, since a promo for this upcoming week of Jimmy Kimmel Live basically looks like one big Oscars afterparty. More Oscars edition mean tweets were teased in the promo, which may mean there's more in store for poor, chiseled Ryan Gosling. Most of the celebs featured took the digs in stride, but Robert De Niro responded rather indelicately to the implication that he should be playing grandfathers instead of gangsters. Natalie Portman also had a pretty great comeback for someone who said they imagined she doesn't order much at restaurants. (She turned to the side, revealing her very pregnant belly, and menacingly whispered, "You're wrong.")
This actually wasn't Twitter's only ~moment~ on the telecast. Kimmel also whipped out his phone, had its display projected up onto a screen, and proceeded to send a pair of tweets to President Trump in real time asking if he was awake. He also let the president know that #MerylSaysHi. (Meryl did not say hi.) Needless to say, Twitter proved to be a strong supporting actor (see what I did there?) at this year's Oscars.