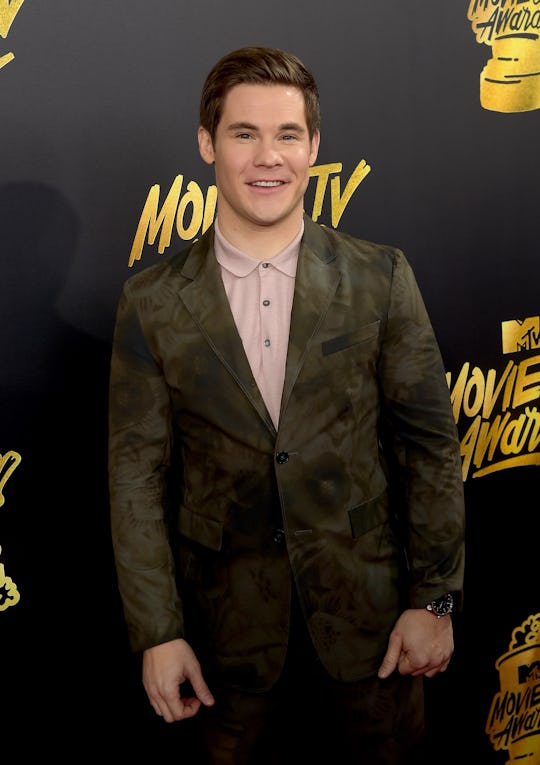 Matt Winkelmeyer/Getty Images Entertainment/Getty Images
Where To Rewatch Adam Devine's 'BATB' Opening Number
As soon as Adam Devine took the stage at the MTV Movie & TV Awards wearing a bargain-bin Beast costume, it was clear that some Beauty and the Beast-themed hilarity was about to take place. What resulted was a ridiculous/hilarious/jokingly-disastrous opening monologue-song "Movies and TV" to the tune of the beloved Disney movie's signature song. Many viewers are already wondering where to rewatch Adam Devine's Beauty and the Beast opening monologue, because I think I speak for everyone when I say we need to see that again.
Personally, I don't think it's possible for any awards show opening song to ever top Neil Patrick Harris' 2013 Tony Awards performance (go ahead and click that link, because trust me when I say it's worth the eight and a half minutes of your life). But Devine, who is hosting the 2017 MTV Movie & TV Awards, did an admirable job at leading an opening filled with funny star cameos. The actor-comedian used his song to reference the year's best and most memorable in pop culture and the ceremony's many famous attendees, including Empire and Hidden Figures actress Taraji P. Henson (because if Cookie's in the house, you're gonna shout her out, obviously).
The opening performance featured cameos from the likes of This Is Us' Chrissy Metz, Mike Colter from Luke Cage (who had a fun Wolverine moment, switching it up from his typical Marvel superhero alter-ego), Josh Gad (aka, LeFou himself) singing about Logan to the tune of the iconic "Gaston" song, and even Hailee Steinfeld stepping in quickly as Belle, decked out in a slightly more ready-to-wear version of the iconic yellow gown.
Personally, I was most amused by the appearance of Rebel Wilson as Mrs. Potts, complete with a teapot outfit. Despite joking that it blew that she "wanted to look hot, but was wearing a teapot," her wry humor is always appreciated. By the end of the number, the entire stage had one up in (fake) flames, as one of the candelabra dancers set fire to the stage.
Luckily for those of us who want to relive Devine's quirky humor immediately, various news outlets managed to capture portions of the performance. Unfortunately, an official version of the performance in its entirety hasn't yet been released publicly. I expect that, as typically happens with MTV's awards shows, the ceremony in full will be released to stream sometime soon after the live airing, so it'll be available to watch at that point.
For now, fans just need to rewatch the almost-but-not quite Disney magic via brief clips and GIFS. Because there are SO many GIFS, courtesy of MTV's GIPHY channel. For now, I'll just leave you with Wilson as Mrs. Potts, because reasons.
See? Reasons. But this awesome skit should also be available in full on YouTube before the night is out.