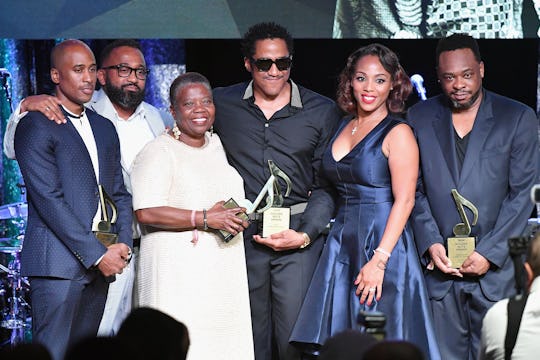 Earl Gibson III/Getty Images Entertainment/Getty Images
Where To Rewatch ATCQ's Grammys Performance
On Sunday night, A Tribe Called Quest, Anderson .Paak, Busta Rhymes, and Consequence took the stage at the 2017 Grammys and gave a meaningful performance full of subtle jabs at the Trump Administration and the messages it has been sending in the last few weeks. At one point, Busta Rhymes even referred to President Donald Trump as "agent orange," according to The Hollywood Reporter. Here's where to rewatch ATCQ's Grammys performance to see all of the awesome subtle and not-so-subtle messages the group had for the new administration.
Anderson .Paak and ATCQ's performance included the songs "Award Tour," "Can I Kick It?," "Movin Backwards," and "We the People," according to Entertainment Weekly. Many were quick to point out on Twitter that there were a number of reasons their performance was so political. Not only are the members people of color, who feel threatened under Trump's administration (and have felt threatened under almost all previous administrations), but some of those performing are also a part of other groups the administration has targeted so far. For example, Busta Rhymes has previously identified himself as Muslim, thus why he had a specific bone to pick with the administration. Before ATCQ's final song, he shared the following message, according to EW:
I just wanna thank President Agent Orange for perpetuating all of the evil that you've been perpetuating through the United States.
Video of the full performance is below.
Then, during the end of the performance, they chanted "Resist! Resist! Resist!" — a word that has become a rallying cry for those who stand against many of Trump's policies, including the recent temporary travel ban that seeks to keep refugees and immigrants from seven Muslim-majority nations from entering the United States.
Reviews on Twitter were mixed, of course. But many supported ATCQ's message.
Many also wondered what right-wing The Blaze host Tomi Lahren would think of the performance. (Hint: she hates everything that preaches inclusivity or criticizes Trump.)
And, of course, everyone was waiting patiently for Trump's response. But it likely won't come until at least 3 a.m.
Overall though, the performance received a lot of support from fans and from those who are opposing many of the messages put forth by Trump's administration. The end of the performance, specifically, lit the fire within those who are actively working to resist.
The resistance isn't going to stop anytime soon, and ATCQ's performance at the Grammys made that crystal clear.