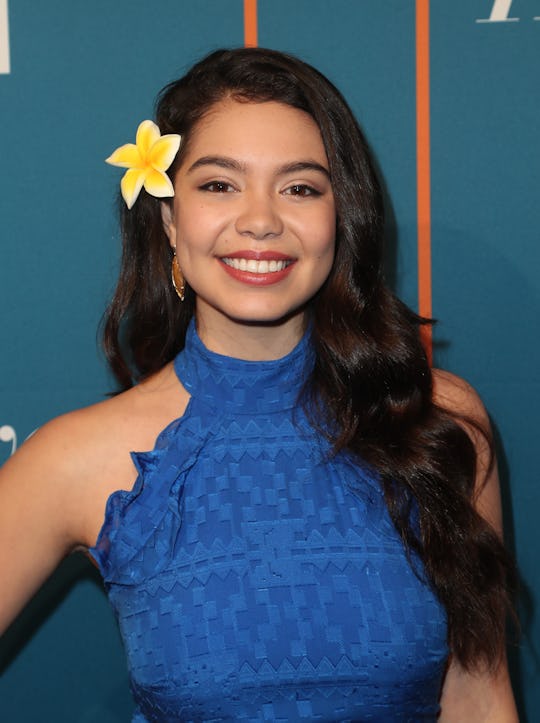 Frederick M. Brown/Getty Images Entertainment/Getty Images
Where To Rewatch 'Moana' 2017 Oscar Performance
Disney's Moana was nominated for two awards at the 2017 Oscars, earning a nod for both Best Animated Feature Film and Best Original Song for "How Far I'll Go." The heartfelt song was performed at the ceremony by the film's star and voice of its title character, 16-year-old Auli'i Cravalho. She was accompanied by a very special guest: Lin-Manuel Miranda, who wrote the song. It was too good a performance to miss, but just in case you did (or if you're just dying to relive it) you may be wondering where to rewatch the Moana 2017 Oscar performance.
While the performance isn't up on YouTube just yet, it's sure to be up within a day or so. The clip will also almost definitely be made available on the official ABC Oscar site, even if it's not up immediately following the performance. The site has been keeping track of all the music moments leading up to the ceremony, so they're sure to update with the actual performances soon. And when all else fails, you can count on Twitter to make sure the moment was captured, but luckily TVLine also posted the full video, which you can see here.
Before the ceremony, Cravalho told Billboard that the performance would be "distinctly Moana, and at the same time it's something where people will think, 'Wow, that is a stunning piece.'" Cravalho performed the song solo in the film, so the addition of Miranda definitely gave it a new dimension.
The performance lived up to the promise: it maintained the spirit of the film while still dazzling all on its own. Miranda performed an original introduction that summarized the film in a rap, then stepped aside for Cravalho to sing with a beautiful background of dancers waving delicate fabric panels intended to resemble waves. (Unfortunately one also bopped Cravalho in the head during the number, but she carried on like a pro.)
For Cravalho, being able to perform at the Oscars was a dream come true. She was preparing like crazy in the lead up to the day. "I've been singing the song non-stop," she said in her interview with Billboard. "Our choreography is coming together beautifully, and everything is falling into place like a dream come true. It's a whirlwind of joy, excitement, and oh my god, I'm so nervous!" Obviously all that work paid off because the performance was beautiful.
Cravalho was also excited to get to perform alongside Miranda, heaping praise on him before the show. "Lin-Manuel is just a genius," she said. "He is so smart, and the way he can portray emotion in lyric, it's a skill that I honestly can say I don't have and I think few people can tap into like he does." That camaraderie was evident in their performance, too.
With so much talent on display, the Moana performance was definitely worth a second watch — and maybe even a third and a fourth.