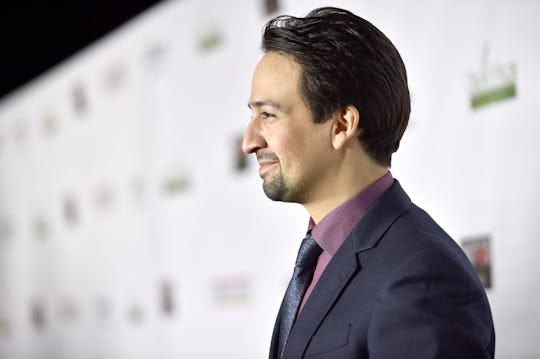 Alberto E. Rodriguez/Getty Images Entertainment/Getty Images
Schuyler Sisters Sing A Moana Tune For Lin-Manuel
The Oscars have arrived! With the red carpet well underway on Sunday night, everyone's favorite stars were busy making appearances, giving interviews, and cracking jokes all around. As with all red carpets, though, there were a few surprises — and this time, they turned out to be incredibly sweet. Actor, writer, and musician Lin-Manuel Miranda was pleasantly surprised Sunday night when several Hamilton cast members performed a song from the Oscar-nominated Moana, for which Miranda wrote much of the music. A quick rewatch of the Schuyler Sisters singing "How Far I'll Go" on the Oscars red carpet is all it takes to realize that pretty much everyone was rooting for him, too.
Miranda was on a red-carpet interview with his mother, Luz Towns-Miranda, chatting up Ryan Seacrest, when Seacrest surprised him with a video from Miranda's Hamilton cast. While several cast members can be seen in the video, the Schuyler Sisters are the opening (and winning) act of the cast's take on Miranda's Oscar-nominated song, "How Far I'll Go," from the Disney film, Moana. The video was a total surprise to fans and Miranda himself, who was fighting back tears after watching the performance. You can rewatch it below and fight your emotions as well:
Miranda is attending the Oscars as a nominee, and a potential EGOT winner–after he has already won an Emmy, Grammy, and Tony award for his previous work. His Moana song, "How Far I'll Go" is nominated for Best Original Song this year, and if he wins, he would be the youngest and only the 13th person in all of history to achieve such a status.
Miranda has earned two Grammy awards for both of his musicals, In the Heights and Hamilton, both of which won in the Best Musical Theater Album category. He has also won three Tony awards and one Emmy, making him no stranger to coming out on top.
The other nominees for Best Original Song are "Can't Stop the Feeling," from Trolls; "City of Stars," and "Audition (Fools Who Dream)," from La La Land; and "The Empty Chair," from Jim: The James Foley Story.
Any live, red-carpet event will always have their own quirks and funny moments, but Miranda's own cast wishing him luck in such a sweet way seemed extra-special, and really goes to show that just about everyone is rooting for his success, tonight and always.
Obviously, the Oscars aren't just about winning, and the fact that Miranda was even nominated is pretty awesome. But, it's definitely interesting to see just how far he'll go.