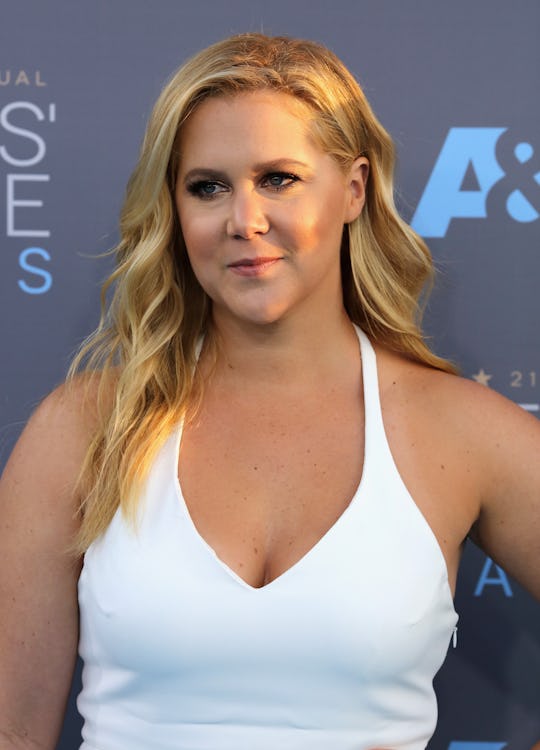 Mark Davis/Getty Images Entertainment/Getty Images
Where To See Amy Schumer On Her Spring Tour & Catch A Glimpse Of Her Comedic Brilliance
If you've been waiting to see her stand-up routine in person, wait no more. On Monday, comedian Amy Schumer announced a 19-city tour with stops all over the country. Schumer's had a super busy (and successful) year, so far, and this latest announcement is yet another exciting development. So where can you see Amy Schumer on her spring comedy tour?
Schumer is planning to kick things off in April in the U.S. Northeast, with a show in Reading, Pennsylvania, making her way to the Midwest, and then working her way back to New York City in June. The tour coincides with the premiere of the fourth season of Inside Amy Schumer on Comedy Central which airs on April 21, so you should probably get your tickets before a swath of new fans are turned onto the glory that is Schumer's raunchy, super-feminist brand of comedy.
In addition to the premiere of her show and traveling for her live shows, Schumer is also releasing a book in August called The Girl With The Lower Back Tattoo, a memoir that will "feature personal and observational stories from Schumer that range from the raunchy to the romantic, the heartfelt to the harrowing," according to The Hollywood Reporter. Books from female comedians always do pretty well, but Schumer's memoir was reportedly sold to Simon & Schuster's Gallery Books for $9 million, according to Entertainment Weekly.
That's a lot. For comparison's sake, Tina Fey's Bossypants went for $6 million and Lena Dunham's Not That Kind of Girl for $3.7 million. Aziz Ansari "only" got $3.5 million for Modern Romance. To be fair, that's still a pretty big chunk of change.(Side note: It looks the only media sector in which women are actually paid higher than men might be in the deprecating memoir category.)
Schumer is pretty much everywhere these days, which must be a nice feeling. This past fall, she talked to Alec Baldwin on his podcast Here's The Thing and joked that she's been called the "girl next door, fastest-rising comic" for about ten years now. Uh, we can probably stop calling her that now. This woman has risen to the top.
In addition to winning an Emmy for her show, Schumer and Trainwreck co-star Bill Hader are up for an even more prestigious award this April: the MTV Movie Award for Best Kiss. Who needs the prestigious EGOT (that's "Emmy, Grammy, Oscar, Tony" awards, for those not in the know) if you get the gold bucket of popcorn for smooching on-screen? That's every '90s child's dream.
With Schumer taking over bookstores, the big and small screens, and possibly — if you're lucky — your hometown this spring and summer, you gloriously have no choice but to get to know her stuff better.