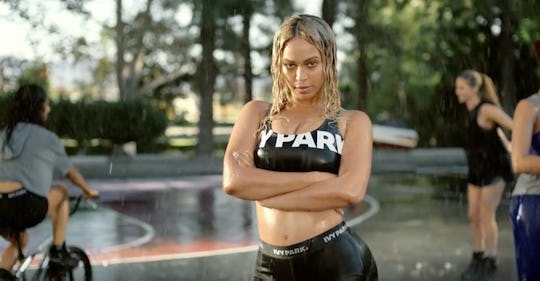 WeAreIvyPark/YouTube
Where To Shop Ivy Park, Beyonce's New Fitness Line, So You Can Get In Formation
Attention Beyoncé fans (aka the world): Queen Bey just launched a new line of fitness apparel and it's about to be the next big thing. The collection is a collaboration with the company that owns TopShop, and other major chains. So, where can you shop Ivy Park, Beyoncé's new fitness line?
Fans are probably already lining up and demanding that someone take their money, but sadly, Ivy Park gear won't be available to purchase till April 14. Even so, the company already has a website. Not only does it give fans an idea of the Ivy Park vibe and the styles that are going to be available, but it also teases Beyoncé's upcoming album, which is rumored to come out in the next few weeks. The website is spare and almost unnervingling cool. The photos are grainy, and all in black and white. The purposeful gritty vibe figuratively mirrors the line's mission to encourage a grit in its wearers as they push themselves to be better and stronger, like Beyonce did. According to the site, Ivy Park "is merging fashion-led design with technical innocation. Creating a new kind of performance wear: modern essentials for both on and off the field." Fittingly, the tagline for the collection is "strong beyond measure."
The brand site also is home to an Ivy Park video, which explains the narrative behind the line. It's a montage of scenes of Beyonce, in a pool, jogging, dancing, but she doesn't look winded; she looks strong and, as usual, regal, even in sweats. There's a voiceover in the video, and it's Beyonce's own measured cadence, talking about the park where her father would make her run, pushing her to go farther. She said, "I remember wanted to stop, but I pushed myself to keep going." She said that she still goes back to that park, at least metaphorically, to draw inspiration from it. "The park made me who I am, " she said. "Where's your park?"
The short video, which is reminiscent of "Formation" in feel, delves into her childhood and even includes footage — real or staged, who knows — of Beyoncé and her sister, Solange, as girls. It shows her neighborhood hair salon, and spanish moss. It's easy to forget that Beyonce was just another little girl, but more and more, she seems to be trying to bring that into the conversation in order to raise up black girls everywhere and encourage them to celebrate themselves. This video is also giving fans a taste of the longer film that will accompany Beyoncé's next album. @TheBeyHiveTeam, a Beyoncé fan account, has been hinting at what's to come for the past few weeks. Even if they're just a fan club, they seem to have a lot of insider knowledge. In February, @TheBeyHiveTeam tweeted about the album film, hinting that Beyonce is collaborating with Los Angeles-based filmmaker, Kahlil Joseph.
"Formation" was just the beginning; there's more to come. This video, which bridges that gap, may be an advertisement, but even as she's saying the brand name, Ivy Park, it manages to avoid sounding pushy and instead feels genuine, even moving. That's the magic of Beyoncé. Fans, I suggest ordering your Ivy Park gear early. It's going to be gone, fast.