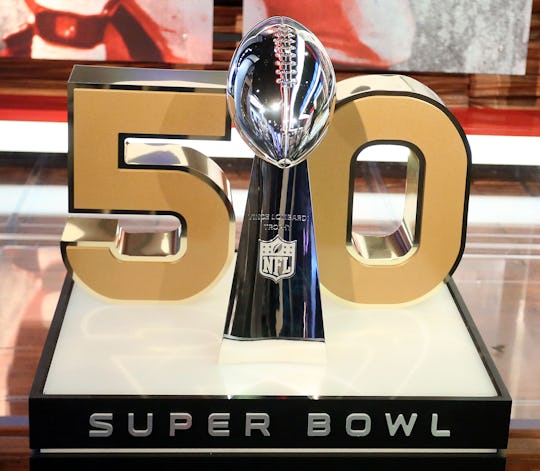 Frederick M. Brown/Getty Images
Where To Stream Super Bowl 50 If You Don't Have Cable, Because You Won't Want To Miss This Epic Showdown
The biggest showdown of the year is nearly upon us — and no, I'm not talking about the epic fistfight that will ultimately go down at the next GOP primary debate. With the NFC and AFC preparing to square off at Levi's Stadium in Santa Clara, California next month, stakes are already high with buzzing excitement growing steadily by the day. So where can you stream Super Bowl 50 if you don't happen to have access to a television?
Lucky for you non-cable subscribers, CBS has made it even easier for you to join in on the festivities this year, right from the comfort of your big cozy bed (or futon, I'm not judging). By hopping over to CBS Sports livestream player on Feb. 7 at 6:30 p.m. ET, you'll be able to tun into the big game with everyone else. Better yet, according to a Variety report from last July, you won't even have to worry about missing those hilarious Super Bowl ads either, since the network will reportedly stream all of the best commercials separate from the show on its official site. Honestly, does life get any better than this?
According to the network, the simplest way to watch the official Super Bowl livestream is to pop open that laptop and head to this link. Of course, laptops can sometimes be finicky — but not to worry, because CBS has you covered there as well.
If you find yourself running into glitches — or, you know, if your laptop like, explodes or something — you can catch the livestream on other supported devices, such as the CBS Sports Channel/App on Roku, AppleTV, your XBox One, Windows 10, or Chromecast.
While you can technically watch the game on your phone, the network was quick to note in a statement this week that "live streaming on mobile devices [will] only [be] available for eligible Verizon Wireless customers via the NFL mobile app"... but seriously, who wants to watch the Super Bowl on a five-inch screen anyway?
Can't wait to get your Super Bowl fix? Don't fret — CBS is airing the NFC Championship on Sunday night as well. And even if you miss that, there will be plenty of opportunity to get into the Super Bowl spirit by voting to decide which ads will air during the game.
No matter whether you're a diehard Broncos fan or simply someone who's obsessed with emotional Clydesdale commercials (you owe me ten tubes of waterproof mascara and a box of tissues for that one, Budweiser), there are plenty of reasons and plenty of ways for you to tune in regardless. So get that grocery list ready — you're gonna need a lot of snacks for this one.
Images: Frederick M. Brown/Getty Images; Christian Petersen/Getty Images; Ezra Shaw/Getty Images