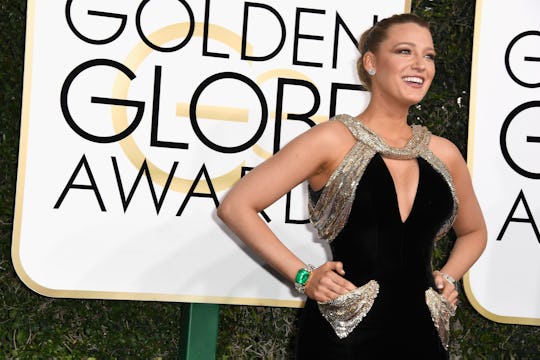 Frazer Harrison/Getty Images Entertainment/Getty Images
NBC Is Changing Up It's Globes Live Stream
Well this is certainly an unexpected turn of events. Those who were hoping to stream the 2017 Golden Globe Awards this Sunday evening found themselves at a great disadvantage when it came time for the show to begin. This is because NBC has apparently blacked out live streaming of the Golden Globes for online users, according to The Hollywood Reporter. This means that, unless you were able to get to a TV screen, the network wasn't allowing its viewers to watch the ceremony online as it normally does. This has understandably left many people wondering where to stream the 2017 Golden Globes if NBC is no longer coming to your aide.
Since NBC is usually my go-to place for all of my Globes streaming needs, I was a little worried viewers would be completely out of luck now that they've darkened their door (so to speak), but it seems there's still at least one very prominent option at our disposal. If you Google "how to stream the 2017 Golden Globes," a YouTube link pops up that reads: Golden Globe 2017 stream 74th Golden Globe Awards (Live Stream). Sounds like just the thing we need, don't you think? And luckily, it's working very well at the moment for all your streaming needs.
Granted, this stream is slightly delayed by a few minutes, give or take, but that's not really too bad when you consider the alternative of not having a streaming service at all at your disposal. So maybe just avoid Twitter while you stream, so you don't accidentally find out the winners for each category too early.
When you go to the NBC site now, all you get in regards to the Golden Globes is a list of the winners and that's far from seeing everything play out in real time. Sure, it's still helpful when it comes to getting information, but you miss out on so much in-between. So having this YouTube stream video available should definitely be helpful to all those who don't want to miss out on all the fun. However, if you're willing to wait a little while before seeing the ceremony in full, there's still a chance it could appear on Hulu Monday morning, though given this new streaming change-up on NBC's part, maybe Hulu will no longer be an option either. We'll just have to wait and see. But in the meantime, be sure to check out the YouTube live stream before it disappears.