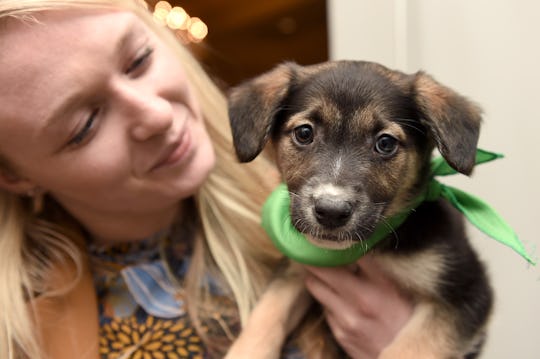 Amanda Edwards/Getty Images Entertainment/Getty Images
The 2017 Puppy Bowl Is Too Adorable To Miss
On Sunday night everyone will gather around their TVs for the greatest night of TV. That's right, it's time for the Super Bowl! But before that happens there will be an even more exciting event to enjoy. I'm referring, of course, to the Puppy Bowl. For the past 12 years Animal Planet has hosted the Puppy Bowl and this year is no exception. So if you love dogs as much as I do, you'll want to know where to stream the 2017 Puppy Bowl so you don't miss out on all the canine cuteness. Don't worry, I've got you covered.
The Puppy Bowl XIII will be airing on Animal Planet at 3 p.m. ET and then after a special episode of Animal Nation with Anthony Anderson at 5 p.m. ET, the channel will then be repeating the Puppy Bowl until the wee hours of 2 a.m. ET. So if you don't feel like watching the real Super Bowl, you can always just watch the Puppy Bowl again. No judgements here! I mean, who can resist all of that adorableness?
Just like most cable channels these days, Animal Planet does offer a live stream of their channel on their website, but you will need a cable subscription in order to get access. If you don't have a cable subscription, you can watch the Puppy Cam, which shows around the clock coverage of puppies just being puppies. It's unclear if the cam will show the Puppy Bowl, but it doesn't hurt to check it out because who doesn't love looking at puppies play? It's also not out of the question to search YouTube and see if it's streaming somewhere on there as well.
As always, the Puppy Bowl will be promoting pet adoption. According to The TODAY Show, there will be 78 puppies from 34 different animal shelters and rescue groups. The pups will be split up into two teams, Team Ruff and Team Fluff. (I know, it's almost too much to handle. I can't even with this.)
This year's Puppy Bowl will also have a focus on special-needs dogs, aiming to increase awareness and hopefully get other dogs like them into good homes. Some special doggies that are included this year are Doobert, who's deaf; Winston whose sight and hearing are impaired; and Lucky who has three legs. Although all these dogs already have awesome homes, the hope is to show people that special-needs dogs deserve just as much love as other dogs do.
Make sure to tune into this very special Puppy Bowl on Super Bowl Sunday. You won't want to miss all of this cuteness.