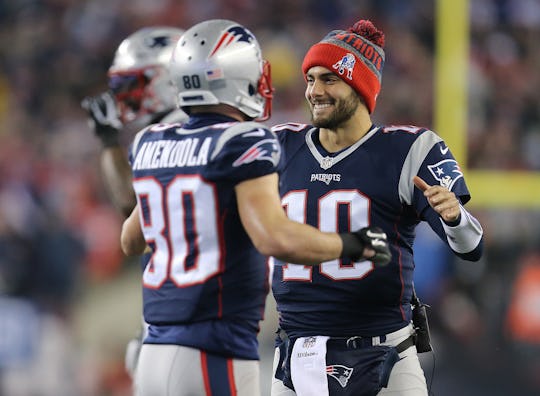 Maddie Meyer/Getty Images Sport/Getty Images
How To "Tackle" Streaming The 2017 Super Bowl
If you are absolutely ready for some football, but don't have cable or will be on the go this Sunday, don't worry. There are many ways to stream the 2017 Super Bowl, which is being broadcast on FOX. Because the Super Bowl is basically a national holiday (in which we honor Lady Gaga and the high art of nacho layering), FOX is letting people stream the game for free on their website, so you don't have to have a cable account to authenticate.
There's enough bad in the world — give us our championship football for free, please. Don't count on the freebie for the regular season, when you can stream, but you have to log in with a cable account. The Super Bowl is just an exception and we should thank the the people in power suits who decided to take one for the cord cutting team.
So, you can stream via your laptop directly from the FOX Sports Go website or download the app to your phone in case you have to work or something and sneak the game in on the side (we won't tell). Unfortunately, the game will only stream via the app when connected to the internet. If you are using cell service, you can only stream on Verizon, so AT&T, Sprint or other customers are out of luck. But don't worry, there are other ways to watch.
If you have an Xbox, Apple TV, or any kind Roku device, all you have to do is download the FOX Sports Go app and you can stream to your big screen, which means that cord cutters can have Super Bowl parties, too. (Ah, the future.) Again, usually you have to sign into the app, but Sunday it will be turned off. There are some more ways to stream, too.
If you have Sling Blue, you'll be able to stream it via the FOX Sports channel, but only in Atlanta, Austin, Charlotte, Chicago, Dallas-Ft. Worth, Detroit, Gainesville, Houston, Los Angeles, Minneapolis, New York, Orlando, Philadelphia, Phoenix, San Francisco, Tampa or Washington, D.C.
Streaming the big game is a little hit or miss — this is all the internet's fault, by the way — and last year, CBS had a rough start for cord cutter fans, though it eventually evened out. And FOX doesn't have the greatest success record when it comes to streaming games. If you're having people over (or just really don't want to miss the commercials or have to get up from your plate of wings), there are some ways to ensure seamless streaming.
Peter Kafka over at Recode has some smart advice. Like, instead of using the wireless in your house, hook up your Roku or Apple TV directly to your router with an ethernet cord so you aren't depending on your shaky wireless. If that's too much work, call your internet company and make sure that your broadband is actually broadband and make sure your speed is at least 25 Mbps. Your internet company might be a little less than transparent about their speeds.
Also, make sure you're the only one in your house streaming something if you stay on the wireless. The kids can read a book for a few hours, right? (Or just give them dip, dip always helps.) Streaming the game successfully, without blips, really all comes down to your internet speed. So make sure you're totally hooked up before you start inviting people over to watch the game, because nothing is worse than watching the Big Game buffer instead of seeing it play out in real time.