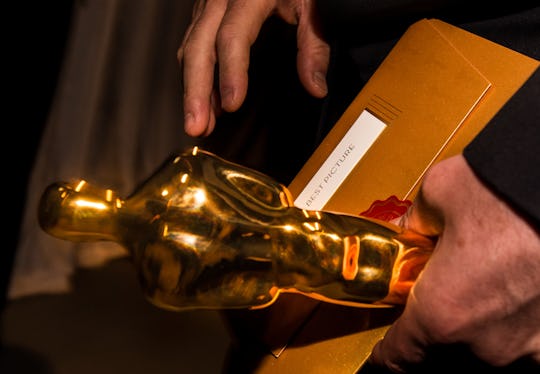 Christopher Polk/Getty Images
Where To Stream The Oscar Nominations? You'll Be Able To Tune In Even If You Don't Have A TV
If you're a total film junkie and want to wake up nice and early this Thursday, you can tune into the Oscar nominations — whether you have a television or not. While celebs are anxiously awaiting to get the call from their publicist in the middle of their morning Soulcycle or whatever it is movie stars are into these days, you can tune into Good Morning America at 8:30 a.m. ET where the nominations will be simulcast live from the Samuel Goldwyn Theater in Beverly Hills. Don't have a TV? You can also stream the Oscar nominations live on the Oscar site itself.
Whether you just dislike paying for a cable bill or whether you'll just be busy running to the office, streaming the ceremony might be a better option — especially given that you'll be either crying or doing a happy dance by the time it's all over (and you definitely want privacy for that.) The nominations will be announced by Academy president Cheryl Boone, John Krasinski, Guillermo del Toro, and Ang Lee, so get start preparing yourself for the celeb-fest now.
Getting a Golden Globe or Emmy nom is a big deal and all, but an Oscar is another level awesome. Already Hollywood has been making some predictions about who will be nominated, but there are sure to be some surprises. The Academy also tends to nominate the same handful of films over and over again amongst the different categories, so there's that to remember as well.
But no matter what films get the Oscar nod, the show itself, which airs February 28th, should be fun. Chris Rock will be hosting, which means it will at least be interesting, even if the same flick, like The Martian keeps getting called out over and over again.
While we're are it, here are some Oscar contenders that deserve a good morning wake up call this week:
Leonardo DiCaprio for Best Actor
He's been waiting for this. And while he's nominated a bunch of times, he's never actually won an Oscar. That makes Leo sad. He snagged the Golden Globe this year for The Revenant. So let's hope he's not just nominated, but actually gets to accept an award this time.
Idris Elba for Beasts of No Nation
This film didn't really get a lot of play, but Elba's supporting role in it deserves a nomination. Also, he had to miss the Globes because he was sick, thus depriving us all.
Give Carol Some Love
I'm busy running a one-woman campaign to have this film not just be nominated for best picture, but actually win it. Of course, it will probably go to Spotlight or The Revenant, but a girl can dream, right?
Best Animated Film
Forget about Peanuts or Inside Out. Charlie Kaufman's Anomalisa is the coolest thing you could have seen this year. Four words: disturbingly realistic puppet love. Who does that?
Of course there are tons of other categories and predictions to make before Thursday. It was a good year, but a little diversity (instead of just the same four guys getting nominated over and over again for The Big Short... not that there's anything wrong with that) or something would be a great way to remember all the good flicks from 2015.
Image: Christopher Polk/Getty Images; Giphy (2)