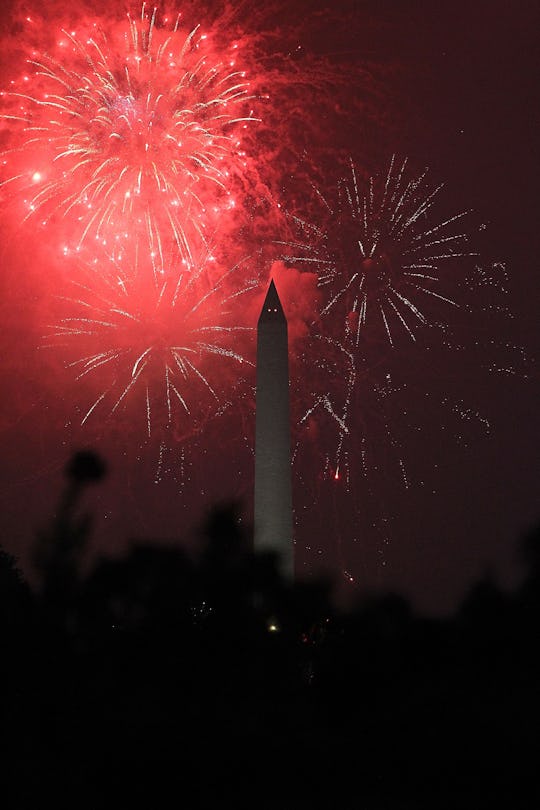 Paul Morigi/Getty Images Entertainment/Getty Images
Where To Watch 4th Of July Specials & Marathons You Won't Want To Miss
While the Fourth of July is generally a holiday spent outdoors getting sunburnt and eating hot dogs while you wait for it to get dark enough to ooh and ahh at fireworks, not everyone is interested in outdoor activities. Some people are indoor kids for life, and that's okay. If you choose to enjoy the festivities from the comfort of your couch then you might be wondering what to watch on the Fourth of July. Luckily there's something for everyone this year, whether you prefer your entertainment to be of the fireworks variety or not.
Every year you can count on a few network spectaculars if you want to get your fill of the sparklers with none of the travel. But that's not all there is to enjoy – with the wide variety of programming available, there's something to please everyone, from those looking for reliable fireworks displays to historical buffs to action movie fans to anyone interested in a little retro flair in their celebration. Anything you could possibly looking for this Fourth of July is there for the watching. So even if you're not planning on venturing out to a BBQ this year, you couldn't possibly be bored with all of options available to channel surf through.
Fireworks Specials
Macy's 4th of July Fireworks Spectacular airs on NBC at 8 p.m. and promises such musical accompaniment as Kenny Chesney, 5 Seconds of Summer, and Meghan Trainor. It's pretty much a classic as far as July Fourth fireworks go, and it'll satisfy anyone looking for a gorgeous display.
The Boston Pops Fireworks Spectacular returns on CBS after being gone for three years. Broadcasted from the banks of the Charles River and starting at 9 p.m., this extravaganza will also feature the musical stylings of Demi Lovato and Nick Jonas.
A Capitol Fourth looks to be an elegant affair, as to be expected from PBS and its location on the lawn of the U.S. Capitol. Beginning at 8 p.m., it will feature performances from the National Symphony Orchestra, Gavin DeGraw, Smokey Robinson, Amber Riley, Sutton Foster, and Christopher Jackson.
Historical Specials
The Unknown Flag Raiser of Iwo Jima will premiere on July 3 at 9 p.m. on the Smithsonian Channel. It explores the unidentified man in Joe Rosenthanl's 1945 photograph, recently discovered to be U.S. Marine Corps Pfc. Harold Schultz.
The History channel will re-air last year's Revolutionary War fictionalized miniseries Sons of Liberty at 11 a.m. on Sunday to prepare you for the nationalism to come, then air documentary America the Story of Us, a twelve-episode look at American history, starting at 8 a.m.
Marathons
If you like your nationalistic programming to err on the side of vintage, then TCM has got you: on the Fourth, the channel will be playing such Americana classics as The Howards of Virginia, Mr. Smith Goes to Washington, Yankee Doodle Dandy, and 1776. The marathon will last from 7:30 a.m. to 4 a.m. the following morning.
SyFy will also be celebrating in throwback style, with a marathon of The Twilight Zone that will run for twenty-eight hours starting on July 3 at 11:30 p.m.
FX is taking a different, and more modern, route. The network will be playing superhero movies all day (starting at 7 a.m.), from X-Men: The Last Stand to Iron Man 3 to The Amazing Spiderman to Captain America: The First Avenger, with a few others in between. What better way to celebrate Independence Day than with Captain America himself?
AMC will be airing both Jaws and Jaws 2 in honor of the sharks that founded our country (No? There must be some other connection then) at both 1 p.m. and 6:30 p.m.
Meanwhile, HBO keeps its programming on-point, with a Veep marathon during the day (starting at 2:30 p.m. on HBO2) and a showing of Independence Day at 8 p.m (on regular HBO).
Happy Fourth!