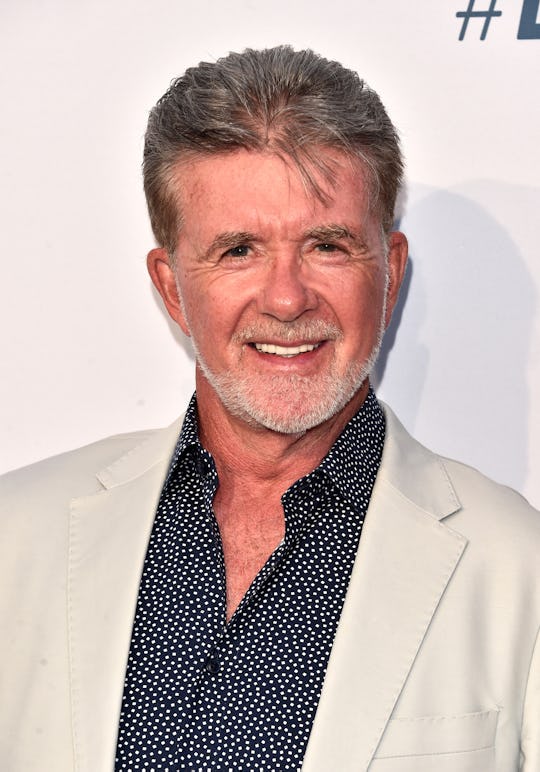 Alberto E. Rodriguez/Getty
Where To Watch Alan Thicke's 'Fuller House' Character Mike Here In Action
Though he was best known for Growing Pains, Alan Thicke continued to make appearances in sitcoms for years until his tragic death at age 69. Here is where to watch Alan Thicke's Fuller House character "Mike here" in action. Fuller House was one of the last roles Thicke ever appeared in, in a small but hilarious cameo as D.J.'s blind date. The series aired on Netflix, so you can still catch him there.
To be quite honest, Thicke's cameo on Fuller House Season 2 was potentially the most entertaining moment of the entire season. You see, back when Matt had a new girlfriend, Crystal, she decided it would be a good idea to set D.J. up with someone, so she brought her grandfather named Mike to game night to be D.J.'s date. Mike was played by Alan Thicke to hilarious aplomb. For one, every time he spoke he announced himself by saying, "Mike here," in his deep baritone voice that was at once irritating and endearing. This short scene really proved that Thicke was an old pro when it came to sitcoms. He knew how to make the most out of cheesy scenario, and how to steal a scene like nobody's business from the series' leads. And if you would like, because why wouldn't you, you can watch this scene over and over again in the wake of the beloved actor's untimely death.
The series is currently streaming on Netflix, so anyone with a Netflix account can easily access it. Thicke's cameo is in the second episode titled "Mom Interference" at around 10 minutes in. He enters with the signature, "Mike here," and immediately compliments D.J. on her nice "getaway sticks." This is not a term I have ever heard before in my life but I'm glad I was introduced to it by Alan Thicke. Obviously, the date between he and D.J. did not go very well, even if at the end of it she was saying "D.J. here." But he was still the best part of the episode.
Unfortunately without a Netflix account, it will be difficult to access the show or this episode. Presumably the short scene with Thicke will be available at some point on YouTube. Until that time, however, you can always borrow an obliging friend's account information, or just get Netflix, because you're missing out on some great stuff.
It's certainly sad to know that we won't get to see Thicke's particular brand of grizzled charm in any more cameo roles, but at least we had him for a while. And he will be truly missed.