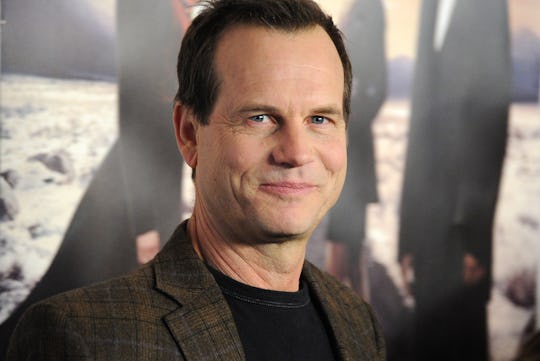 Jason Merritt/Getty Images Entertainment/Getty Images
Grieving Fans Can Watch Bill Paxton In 'Big Love'
The film and television industry said goodbye to one of its finest on Sunday morning. It was confirmed that Bill Paxton passed away at the age of 61 due to complications from surgery. The one comfort for those who loved Paxton and his consistently impressive work is that he left behind so many amazing movies and TV shows to remember him by. While there are a ton of iconic films to choose from, Paxton's television work is equally good. If you're so inclined, you can even watch Big Love if you're grieving Paxton's death and see five seasons-worth of his work at once.
Big Love premiered on HBO in March 2006 and ran for five seasons until 2011. The drama series follows a Fundamentalist Mormon family from Utah (a religious group separate from the mainstream Mormon Church) that practices polygamy. The show follows the family patriarch Bill Henrickson, and depicts family life with his three wives and their children. Paxton starred as Henrickson, with actresses Chloë Sevigny, Ginnifer Goodwin, and Jeanne Tripplehorn portraying Henrickson's three wives. While the show definitely stirred up some controversy, it was also critically acclaimed and had a seriously devoted fan base. If you haven't had a chance to watch Big Love and are a fan of Paxton's work, now is definitely the time to get to know the Henricksons.
Since the show aired on HBO, the entire series is available for streaming. You can watch Big Love in it's entirely on HBOGo or HBONow. HBOGo is available for all HBO customers, so if you already pay for HBO on your television then you're ready to go. For those who don't have access to an HBO or HBOGo account, HBONow is a stand alone streaming service that offers access to all HBO's programs. You don't need a cable or satellite TV package to sign up for HBONow, which is great news for everybody without a TV in their homes. If you're looking for something a little more concrete to remember Paxton by, it's also possible to buy box sets of Big Love on Amazon.
A few of Paxton's other projects are also available for streaming on HBO. You can check out the actor's work in films such as Thunderbirds and Trespass on HBOGo and HBONow, as well. His film Nightcrawler is available for streaming on Netflix, if you're partial to that streaming service. These are all great options to watch while you mourn the loss of Paxton and his truly incredible acting abilities.
Chances are you could take a look at your own DVD or Blu Ray collection and find a classic film you love that also happens to star Paxton. From Titanic to Twister, Paxton somehow managed to be in so many beloved movies. We'll miss the actor, but are truly grateful he left us with so many amazing films and televisions to remember him by.