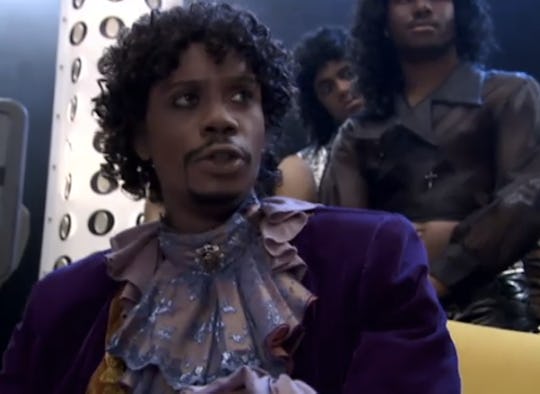 Where To Watch 'Chappelle's Show' Prince Sketch, A Tribute To The Singer's Insane Coolness
I grew up in Minnetonka, Minnesota. So when Chappelle's Show True Hollywood Story Prince sketch with Charlie Murphy aired, I only heard one response to my hometown: "Why don't you purify yourself in the waters of Lake Minnetonka?" The line, of course, came directly from the Comedy Central sketch, written as smack talk between Prince and Murphy, who told a story about playing basketball with the one of the most iconic and fashionable singers to ever hit the airwaves. And I was hardly surprised to hear the line from those asking where I was from over and over — after all, the sketch is not only hilarious, but it's an almost spot-on depiction of just how cool Prince, who died at age 57, really is.
Because Prince was not only a singer. He was an artist, who seemed capable of nearly anything. We knew he could sing, we knew he could perform, and we knew he could wear literally anything and still look cooler than anything in the pages of Vogue. But Chappelle's Show sketch proved that Prince not only won on the music scene, but on the basketball court as well, beating Murphy, outfitted in Purple Rain clothes and all. As Murphy says in the sketch, "I dare you to challenge Prince to a game of ball one-on-one."
(UPDATE: Murphy has released following statement about Prince's death via his publicist: "I'm blown away. May he rest in peace. Music has lost one of its greatest icons.")
And what's even better is the fact that the story is true, one that Prince himself has corroborated he claimed, however, that he wasn't a great player — Morgan was just bad). But, then again, as ESPN pointed to last year via the Star Tribune's Libor Jany:
And, on top of all that, he seemingly made great pancakes as well. Seriously, there was no artist more versatile.
All of this makes the Chappelle's Show sketch such a fitting tribute to the late singer, who died in Minneapolis — a six-minute ode to a man who dominated the court as much as music, who transcended coolness, no matter where he stepped.
So while you're celebrating the singer's life with some of his best music works, remember the artist with the sketch comedy show's tribute to Prince, which you can watch over on The Wrap.
Who wouldn't be proud to be able to share the waters of Lake Minnetonka with him?