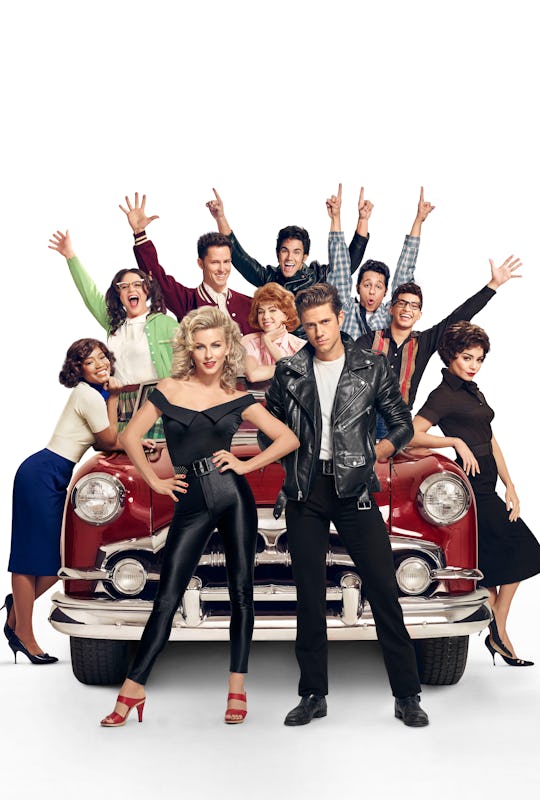 Where To Watch 'Grease,' The Original, Because It's Time To Prep For 'Grease: Live'
With Grease: Live airing at the end of the month, Grease nostalgia is at an all-time high. While the live show remake is sure to be a hit, there is just something special about the 1978 classic. Fans are probably wondering where you could watch the original Grease before hunkering down to see if the live remake is up to par. And fortunately, there are some options for those who want to walk down memory lane.
Grease: Live will air on Jan. 31 from 7 to 10 p.m. on Fox, according to Us Magazine. But Grease fans will definitely want to watch the original in the meantime (who doesn't love the big hair and the tight black t-shirts?). Thankfully, Netflix kinda has you covered. Though Grease isn't available to stream, the company's DVD program has it readily available for fans' viewing pleasure. So yeah, you can Netflix (DVD) and chill.
For Apple ppeople — or for people who just don't want to use those antiquated things called DVDs — there's another option. Apple's iTunes has Grease ready to stream, so get your laptop handy. There is something important to note however: Watching the John Travolta and Olivia Newton-John classic will cost you — $12.99 to be exact. But, for many, that's a small price to pay to enjoy the musical anytime you want.
Julianne Hough, who is playing Sandy in Grease:Live said she didn't get the chance to watch the iconic film growing up. (Sorry, like, what?) "I wasn't even allowed to watch Grease because it was too racy for me. I would steal it when my parents were out of the house and I'd watch it over [and over] again," she told Extra in December.
But one Grease: Live cast member who has seen the movie and is working hard to live up to his role is Danny Tveit. Tveit, who is playing Danny Zuko, made it clear that he is extremely excited about taking on the character. "They really wanna show that this thing is happening live and in the moment. They want to take that energy and the story that everyone knows," the 32-year-old told Broadway world. "There are gonna be millions of people watching, so I better not mess up!" And just like those who will watch Grease: Live, I'm sure Tveit has seen the original quite a few times. So, he'll be totally ready for the role.
Images: Grease: Live/FOX; Giphy