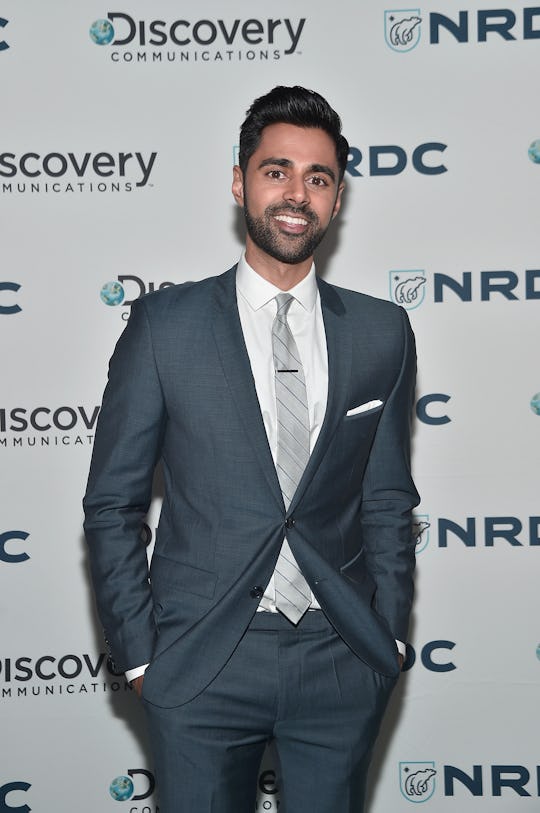 Mike Coppola/Getty Images Entertainment/Getty Images
Hasan Minhaj's Stand-Up Will Prepare You For The WHCD
The White House Correspondents' Dinner is fast approaching, and this year, the event is set to be anything but normal. Holding down the fort at the annual dinner on April 29 (while President Donald Trump holds a rally in Pennsylvania) will be host Hasan Minhaj. For those looking to get a sense of what to expect from the comedian, here's where to watch Hasan Minhaj's stand-up, and get prepared for what is likely to be a tense affair.
Minhaj is best known for his work as a correspondent on The Daily Show, where he has delivered many hilarious segments, as well as scathing ones like this, the day after the election, about his outrage that Trump's racism during the campaign wasn't a dealbreaker for voters, and about his worries for himself and his family in the wake of Trump's calls to ban Muslims. (Minhaj is a Muslim Indian-American.) At the dinner, he'll have to balance his own strong feelings about the president with the desire for the event to remain impartial. As Jeff Mason, the president of the correspondents' association told MSNBC, "I was not looking for somebody who is going to roast the president in absentia; that's not fair and that's not the message we want to get across."
It's a daunting task, and apparently one that not a lot of comedians wanted to handle. Reportedly, some bigger names turned down the offer to host, including James Corden. But judging from available footage of Minhaj, he's got the necessary skills to deliver a biting and hilarious monologue.
Curious fans can get a sense of Minhaj's joke-telling abilities by watching his turn hosting a similar event (albeit one smaller in scope than the one he'll be hosting soon), the 2016 Radio and Television Correspondents' Dinner, in the good old days before the election results came in.
And soon, viewers will be able to watch a full hour-long stand-up special of Minhaj, Hasan Minhaj: Homecoming King, which will be, according to Deadline,
... based on true events from Minhaj's first generation Indian-American experience. Navigating between two worlds, it follows Minhaj's arrival in the U.S., interracial love, racism, bullying, and his family's quest to achieve the elusive American Dream.
That's dropping on Netflix on May 23, according to Minhaj's website.
In the meantime, though, viewers will have to content themselves with some of his best Daily Show clips, like this one where he discusses Muslims on airplanes (he comes in around the 4:05 mark).
Or this one, about how Trump is "the white ISIS":
Or there's always the good old "finding stand-up videos on YouTube" route, which yields some gems:
And hey, if it turns out that Minhaj's style isn't your thing, you can try tuning into Samantha Bee's "Not The White House Correspondents' Dinner" instead. Or watch them both! In scary times, you can never have too much political comedy, right?
Whether Minhaj pulls off a legendary performance in the vein of Stephen Colbert at the 2006 White House Correspondents' Dinner remains to be seen. But one thing's for sure — given the frosty relationship between Trump and the press, the evening is going to be a memorable one.