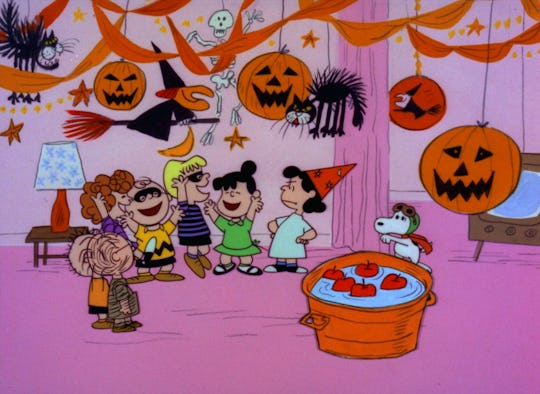 Lee Mendelson Film Productions
Where To Watch 'It's The Great Pumpkin, Charlie Brown,' A Halloween Classic
The days are getting shorter and colder, giving families the perfect excuse to curl up on the couch after dinner and enjoy some family-friendly entertainment. And with Halloween being only a few weeks away, the festive films and TV specials are unlimited. Though you'll have your pick of entertainment this holiday season, there is one Halloween special that stands the test of time and is a staple across the country — It's the Great Pumpkin, Charlie Brown. And if you aren't fortunate enough to own the special, you may be wondering where to watch It's The Great Pumpkin, Charlie Brown. Because really, what's Halloween without watching Charlie and his crew?
For those who haven't experienced the excellence that is It's The Great Pumpkin, Charlie Brown (yes, those people do exist) here is a quick synopsis. The special follows Linus as he waits for The Great Pumpkin — an autumnal figure that's comparable to Santa Claus and the Easter Bunny. Though the gang mocks Linus for his belief in the Halloween figure, but that doesn't keep the blanket-toting kid from waiting in the pumpkin patch on October 31. It's a story of magic, miracles, and, of course, candy. What more could you want from a film?
And you'll want to be sure to get your Charlie fix this year. According to IMDB, It's The Great Pumpkin, Charlie Brown first aired in 1996, making this the 50th anniversary of the iconic special. So, the question remains, how do you watch Linus wait out The Great Pumpkin's arrival? Well, there are a few ways.
The first, and perhaps the easiest, way to watch the special is to purchase a 50th anniversary copy of It's The Great Pumpkin, Charlie Brown ($10). This way, you can enjoy it long after you've made your way through the kid's trick-or-treat bag.
If you're strictly a Halloween-only viewer, then you'll probably want a free method of viewing. Oddly enough, despite it being the 50th anniversary, no TV channels seem to be airing It's The Great Pumpkin, Charlie Brown — something almost as disheartening as watching Charlie try (and fail) to kick the football.
But there are other, less-legal options. Mainly, streaming It's The Great Pumpkin, Charlie Brown on YouTube. The quality is just as good as the original, and you don't have to sit through commercials.
So log onto Amazon or YouTube and get your Charlie Brown fix before it's time for A Charlie Brown Thanksgiving.