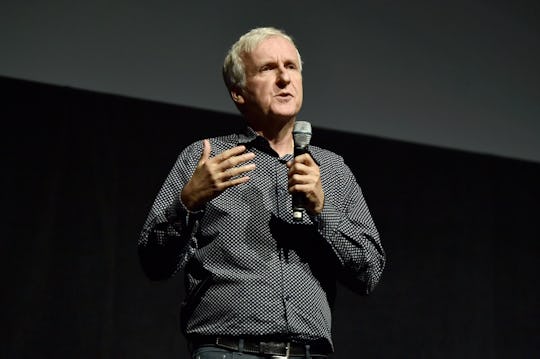 Alberto E. Rodriguez/Getty Images Entertainment/Getty Images
Where To Watch 'Not Reality TV', James Cameron's Film About Climate Change
Sigourney Weaver introduced a beautiful yet shocking trailer to a film about climate change at the Democratic National Convention this week. It was there, inside the Wells Fargo Center in Philadelphia, where director James Cameron's film about climate change, called Not Reality TV, made its official debut in the form of an extended trailer. After watching the shocking trailer, many are dying to know where to watch Not Reality TV — as it is an incredibly important and educational film that's closely tied to the issues affecting the current 2016 election.
"We all know its happening. Its real. Its happening now," Sigourney Weaver says in the film's extended trailer, as shocking images are displayed across the screen. "The droughts, the storms, the floods, the fires. This is not something we've seen before." The trailer focuses on climate change in America — who it has affected and how terrifying it can become.
The short film features some pretty prominent people from Hollywood. Not only is the film narrated by Weaver but according to Variety, Jack Black, Don Cheadle, and America Ferrera are among the other actors who appear in the film. If the images alone don't make you want to see it, the actors will.
Luckily, those who are interested can watch the short five minute long film on YouTube and at the film's official site right now.
If the celebrity names were not enough of a draw to watch the film, according to Variety, Hillary Clinton along with New York Gov. Andrew Cuomo, and Washington Gov. Jay Inslee will also make appearances. Therefore it was only fitting that the film's trailer made its debut at the Democratic National Convention — just one day after Hillary Clinton was voted in as the Democratic Party's 2016 nominee.
The film's trailer more notably features the Republican Party's nominee, Donald J. Trump, saying some pretty interesting things about climate change, as shocking examples of climate change flash in between his words. In 2012, Trump called climate change "a hoax" and a "very expensive form of tax." Trump has also denied that climate change exists or can be caused by humans.
While the "film" is only five minutes long, it still makes an incredibly important and powerful statement — climate change is real and regardless of the global change around them, some people will deny the fact that it isn't. But the images don't lie and speak for themselves. Climate change is happening and we can't sit back and do nothing about it.
James Cameron said it best, in a recent statement to reporters: "We made this film to show the reality of climate change — how it's directly affecting millions of people each day." While watching a full length climate change documentary might be laborious, Not Reality TV will only take five minutes out of your day to watch — and it might be the most important thing people will see all day.