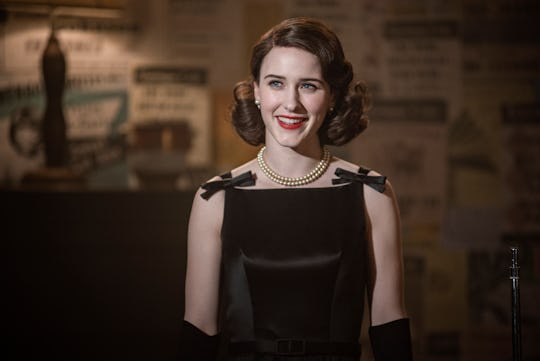 Amazon Prime
You Won't Want To Miss Season 2 Of 'The Marvelous Mrs. Maisel'
The Marvelous Mrs. Maisel swept the 2018 Emmy Awards, taking home statuette after statuette for its debut season. That may have made prospective viewers even more eager to check out the show when it continues. But to do that, you need to know where to watch Season 2 of The Marvelous Mrs. Maisel. Luckily, there's one easy answer to that question.
The show is an Amazon property, which means that Amazon Prime is the only place to see it. If you already have an account then you're good to go, but if you don't, maybe you can try their thirty-day free trial to see if it's something you want to continue with. You have a little bit of time to decide, too. Though Cosmopolitan reported that the premiere of Season 2 is going to be soon, the exact date remains a mystery. Season 1 was first released in November 2017 (though Episode 1 was available in March), so if it sticks to tradition then there's a chance Season 2 might debut in just a couple of months. But that's speculation; there's been no official word when it comes to the new season.
There is good news about the show's future, though: The Marvelous Mrs. Maisel was already renewed for a third season, according to Deadline.
The premiere date may be a secret for now, but some details of Season 2 have been revealed. Cosmopolitan stated that it would be ten episodes total, so there will be two more than there was in the first season. Star Rachel Brosnahan shared a little bit of Midge's upcoming journey with IndieWire, though she was careful to avoid spoiling anything. She said that Midge would have to learn to balance her old life with her new one: she still had responsibilities to her family, but she was finding a new sense of purpose in her work that she didn't expect.
While talking to E! News, Brosnahan reiterated how central Midge's struggle would be to the new season. It seems like she's going to be pulled in several different directions over the course of those ten episodes. "So much happens in season two and so much changes in season two," Brosnahan said. "All the worlds collide and bounce off of each other. Characters interact who have never interacted before, so almost anything we say is a massive spoiler."
Fans can see some of those changes in the trailer for Season 2. Though some scenes are familiar, like Midge and her mom at the beauty parlor or Midge taking to the stage to perform, there are surprises to look forward to as well. The cast journey to the Catskills, where many real life stand-up comedians made a name for themselves in the 1950s and 60s. There are also a few new characters joining the show, like Zachary Levi's unnamed Manhattan doctor.
The Amazon series' smashing success at the Emmys helped build excitement ahead of the new episodes. The Marvelous Mrs. Maisel was nominated in six categories overall and won four of them. It took home Best Comedy Series and Casting for a Comedy Series, as well as two acting awards. Star Brosnahan won Lead Actress in a Comedy Series and co-star Alex Borstein snagged Best Supporting Actress.
The second season is already long-awaited, but hopefully the wait won't be too much longer.