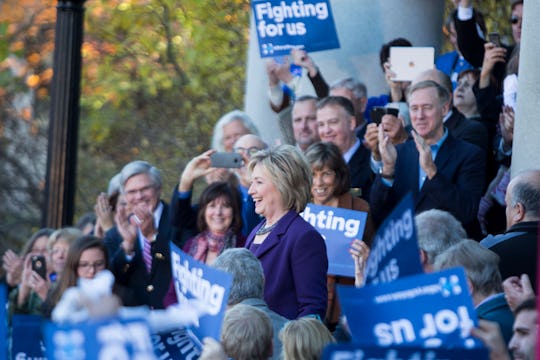 Scott Eisen /Getty Images
Where To Watch The New Hampshire Primary, Because It's A Going To Be A Big Turning Point In The 2016 Race
Now that the Iowa caucuses are over, primary season is in full swing. Luckily, there are lots of ways to watch the New Hampshire primary on Feb. 9 and keep up with the race. If you're not in New Hampshire and you have a television, the best place to tune in to watch results come in is on cable news networks like CNN, MSNBC, or Fox, depending on what you like best. Each network will also be posting results to their websites and if you can't take over the television in your living room, you can always stream each one live on your computer by authenticating your cable account. It's better than nothing.
If you don't have cable, the next best place to watch live results is on Twitter. While trying to figure out how results are coming in could get a little confusing, there are certain people you can follow who know what they're talking about and how to make sense of all the numbers. Chris Cillizza of The Washington Post has a list of the the only people you need to follow on primary nights. New Hampshire Public Radio will also have live coverage you can listen to with an Internet connection. Don't fret: No matter where you are, there will be a way to get your primary on next week.
All of the primaries are important, of course. But New Hampshire is actually one to watch because it is really all or nothing for some of the Republican candidates. Former Secretary of State Hillary Clinton and Vermont Sen. Bernie Sanders will duke it out until the end on the Democratic side, but the for the crowded Republican field, these larger primaries are signs to drop out if nothing big happens. John Kasich told NBC News on Wednesday that if he gets "smoked" next Tuesday, it's over for his campaign.
Although Clinton won't drop out if she loses New Hampshire, she's worried, too. On Wednesday, she told supporters in a campaign email that New Hampshire would be an "uphill" battle. She also dispatched almost 200 staffers from her Brooklyn headquarters to head up north, in order to start driving turnout.
Every other candidate seems to be pulling out all the stops prior to the debate and primary in New Hampshire, seemingly learning from the experience in Iowa this week. The New Hampshire results, for both parties, will determine how the coming months of voting plays out. If three candidates Mike Huckabee, former Sen. Rick Santorum, and Rand Paul dropped out after Iowa, you can bet that another handful of GOP candidates will likely disappear by the middle of next week as well.