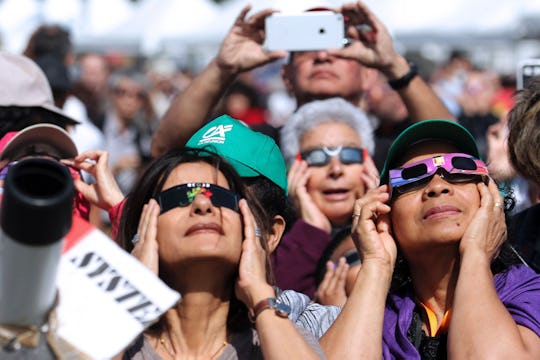 RICHARD BOUHET/AFP/Getty Images
Where To Watch The Solar Eclipse In Charlotte Because It's Worth Seeing
As the saying goes, "Nothing is finer than the Carolinas" — especially for viewing the solar eclipse on Monday, Aug. 21. The moon will cover the sun for a little more than two minutes Monday afternoon, and it will definitely be worth watching. While South Carolina will get 100 percent totality of the total eclipse, Charlotte, North Carolina is set to get up to 98 percent coverage (which is close enough to 100 percent). So, if you're close to the Queen City, then you'll definitely need to know where to watch the solar eclipse in Charlotte; because it is worth leaving work early (or taking an extended lunch break) to watch.
The solar eclipse will approach Charlotte at around 2:40 p.m., according to Vox. Although Greenville, South Carolina and Columbia, South Carolina are in the path of "full totality" and are only 1 hour and 45 minutes away from the city, you might want to stay in the city limits.
Keep in mind, though, that South Carolina highway patrol is expecting major traffic on Monday. And if you thought the traffic on I-85 was bad enough during the work week, you can definitely expect major delays heading in and out of the city (which is enough for me to stay in city limits).
Luckily, there are plenty of places and opportunities to view the eclipse from Charlotte and have a great experience without having to head out of the Queen City.
Have An Educational Experience
Places all over Charlotte — from museums to libraries — will be hosting viewing parties where you can watch the eclipse and learn a little bit about what you're seeing at the same time.
Discovery Place Nature, for instance, will be hosting a "tailgate" from the museum's parking lot with educators on hand to answer questions about the eclipse. Wingate University Ballantyne will host The Great American Eclipse viewing party at the Audubon Amphitheater with giveaways and activities for attendees of all ages. The Renewable Energy Transition Initiative will be hosting a viewing party at Camp North End and will give away free glasses to anyone who signs up for their newsletter (totally worth it).
But if you're in a pinch, most libraries in the Charlotte Mecklenburg Library system will be hosting some kind of party or event at the different branches to learn about the eclipse and watch it, too.
Or Watch The Eclipse With A Drink
If you're from Charlotte, you know the city loves a rooftop bar and a brewery — and you know that even a Monday won't stop people from heading out.
In spite of the eclipse arriving in the afternoon, plenty of restaurants and bars are having viewing parties, because there is no better place to watch the eclipse than from a rooftop with a cold one one in hand. City Lights Rooftop will be hosting a ticket only party that will get you eclipse glasses, appetizers, and a "solar eclipse inspired cocktail" (sounds fancy). Sycamore Brewing will host a viewing party in their Sycamore Beer Garden and give away NASA verified viewing glasses with the purchase of a beer, glass of wine, kombucha, or popsicle (sign me up). Hyatt Place Charlotte Downtown will also be hosting a party from 1 p.m. to 4 p.m. and be serving special cocktails, appetizers, and handing out solar eclipse glasses.
But If You're A Homebody, Or Have To Work...
Because Charlotte is so close to the path of totality, you will more than likely be able to see the eclipse from anywhere in the city — whether it be at your apartment or your 9 to 5 job. Take the time out of your day around 2:45 p.m. to stretch your legs, head outside, and experience the eclipse yourself. Just remember to wear solar eclipse glasses when staring at the sun at any point on Monday and be cautious about staring into the sun or driving around when the moon approaches the sun in the afternoon.
The eclipse won't be something you'll want to miss on Monday. And thankfully, by living in Charlotte, you won't have to miss it at all.