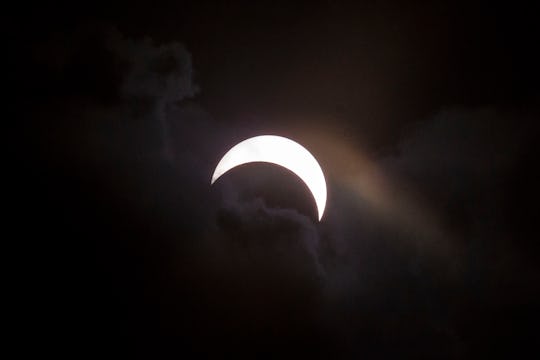 Ulet Ifansasti/Getty Images News/Getty Images
Where To Get The Best View The Solar Eclipse In Nashville
The folks at NASA are urging people in the continental United States to pay extra attention to the sun on Monday, Aug. 21. That's because, for a few minutes, millions of people will be treated to the rare phenomenon of seeing the moon cover the sun partially or completely (depending on your vantage point). It's a once-in-a-lifetime event and the kind of thing to plan a family outing around, for sure. And if you're wondering where to watch the solar eclipse in Nashville, don't worry; the city website has posted literally dozens of viewing parties and prime watch locations to help you and your family find the perfect gathering of like-minded space lovers.
And this isn't an event that anyone is going to want to miss. According to CNN, "the path of totality," or how much of the United States that will be completely inside the Earth's shadow will be about 70 miles wide and stretch across 14 states — from Oregon to the South Carolina coast. Not only will the 12.2 million people living inside the path have a great view, CNN reported, but the 200 million folks who live within a day's drive of the eclipse's path will be able to enjoy it, too. The United States hasn't had an eclipse in 38 years, and the last time one stretched from coast to coast was 99 years ago, CNN reported.
The eclipse is shaping up to be an even bigger deal in Nashville, the largest city within the path of totality, Thrillist reported. Finding a hotel room on eclipse weekend will be tough, as Nashville hotels have been booked for weeks, according to WKRN.com. And local stores are starting to have a hard time keeping eclipse glasses in stock for space enthusiasts, The Tennessean reported.
But those are all signs of a massive party on the horizon, right? And when it's time for the moon to move into position, these points will probably have some of the best watch parties in Nashville.
The First Tennessee Park
Nashville Mayor Megan Barry is teaming up with the Nashville Sounds, Metro Government, the Metro Sports Authority, and the Adventure Science Center to host a solar eclipse viewing party in First Tennessee Park on Aug. 21, starting at 10:30 a.m. Visitors may want to enjoy the whole day at the ballpark, as the Sounds will play the Iowa Cubs there at 4 p.m., according to the official announcement.
The Adventure Science Center
The three-day Music City Solar Eclipse Festival and Viewing Party, held at Nashville's Adventure Science Center from Aug. 19 to Aug. 21, might be the perfect place for kids to learn about science and technology while waiting for the eclipse. According to VisitMusicCity.com, the festival will also feature live music performances, science demonstrations, solar telescope viewing stations, and games, contests, and prizes with a science theme. There will even be a splash pad, you guys. To get tickets, go to www.adventuresci.org/eclipse.
City Winery Nashville
For those going kid-free that weekend, City Winery Nashville is offering watch party patrons a free glass of champagne and eclipse glasses, according to its website. Tickets cost $15 per person, and are available at www.citywinery.com.
Any Of The City's 100+ Public Parks
Thrillist notes that almost all of the city's parks, zoos, and public waterways have planned festivities for eclipse-watchers. And the list of special events on VisitMusicCity.com includes celebrations at Hadley Park and the 108 metro parks around Nashville.
Whatever you plan to do to catch a glimpse of this natural phenomenon, you'll definitely have a good view of it if you're in Nashville.