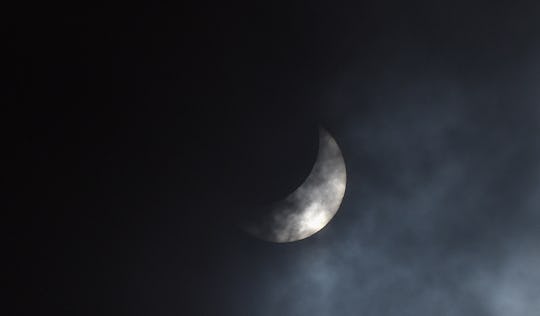 Ross Kinnaird/Getty Images Sport/Getty Images
Where To Watch The Solar Eclipse In New York
On Monday, Aug. 21, a total solar eclipse will be visible across the United States. Considering this spectacular phenomenon hasn't occurred since 1979, many people are excited about it and are wondering where they can witness the solar eclipse — and that includes New Yorkers. Although those in and near the Big Apple won't have the best view of this rare event (darn you, science), here's where to watch the solar eclipse in New York.
According to NASA, only 14 states will be able to see the solar eclipse in its totality, while the rest of America will be treated to a partial eclipse. This means that the lucky states of Oregon, Idaho, Wyoming, Montana, Iowa, Kansas, Nebraska, Missouri, Illinois, Kentucky, Tennessee, Georgia, North Carolina, and South Carolina will witness the moon completely blocking the sun for about "2 minutes and 40 seconds," according to Space. As for New York, it will be able to see the "moon covering about 70 percent of the sun" around 2:44 p.m. ET, according to Curbed.
Although New Yorkers won't have as an impressive of a show as other states, a partial eclipse will still be incredible to observe. You got to take what you can get, right? Not to mention America might be on brink of a nuclear war, so you should enjoy space while you still can.
If you happen to be in New York on this majestic day, here's where you'll want to set up camp:
Long Island
Long Island gets major bonus points for its beaches. Who wouldn't want to watch a solar eclipse on a beach? It sounds like a scene out of a Michel Gondry movie.
According to Newsday, Long Islanders can partake in outdoor solar eclipse viewing parties at the South Fork Natural History Museum and Nature Center, the John Jermain Memorial Library, the Middle County Public Library, the Oceanside Library, the Cradle of Aviation Museum, and the East Meadow Public Library.
Many of these locations offer glasses for safely viewing the eclipse (be kind to your eyeballs, people), and some parties will host experts to explain the science behind solar eclipses. In fact, the South Fork Natural History Museum and Nature Center will be hosting a telescope and astronomer from the Montauk Observatory. Sounds fancy.
Upstate New York
Although the weather forecast doesn't look good for Upstate New York (boo clouds), this region is still ideal for viewing an eclipse. There's not that much to block your view in this neck of the woods, right?
According to News 10, residents near Albany can attend solar eclipse viewing parties at Linden Avenue Middle School, the Bethlehem Public Library, and the Museum of Innovation and Science.
If you're near Syracuse, Sam Sampere of the Physics department at Syracuse University will be hanging out on the university's quad with high-powered telescopes, according to New York Upstate. Sampere has invited the public to watch the eclipse with him, and he has outfitted the telescopes with special solar filters to protect your eyes.
New York City
As one might expect, New York City is pulling out all the stops for the eclipse. Go big or go home, right?
If you're not stuck inside at work at 2:44 p.m. ET, you can head on over to viewing parties at the the New York Public Library, Pelham Branch, the American Museum of Natural History, and the Brooklyn Public Library, Clinton Hill Branch. Similarly to other eclipse bashes around New York state, guests will be gifted with free viewing glasses.
Better yet, the American Museum of Natural History will have a whole team of astronomers to give a play by play of the eclipse. If you're clueless when it comes to science, this party is calling your name.
If you rather not listen to scientists (no shade toward scientists), check out the AIANY Around Manhattan Architecture Tour, which will "devote one of its regular boat tours around New York to the solar eclipse," according to Curbed. Sounds kind of romantic, right?
If you're not into parties, head over to literally any location in New York to witness the eclipse. Central Park might be a good bet, or give The Metropolitan Museum of Art's rooftop a try. The possibilities here are endless, people.
It goes without saying that the solar eclipse on Aug. 21 should not be missed. An eclipse is a rare and beautiful occurrence, and New Yorkers are lucky to have many options to watch this one go down. Enjoy the show, New York.