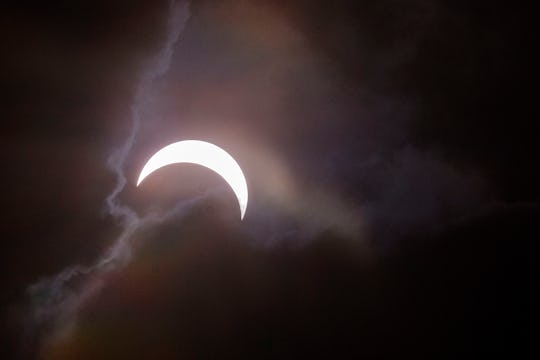 Ulet Ifansasti/Getty Images News/Getty Images
Where To Watch The Solar Eclipse In The US
On Monday, Aug. 21, a solar eclipse will be visible across the entire United States. But the big even will be more visible in some areas of the country than others. Luckily, there are plenty of resources to find out where to watch the solar eclipse to get a spectacular, celestial show that is sure to be unlike any other.
According to NASA, also known as the National Aeronautics and Space Administration, the penumbral shadow of the moon will produce a partial eclipse that will be visible from a very large region covering most of North America during the eclipse on Aug. 21. But there are areas that will be better for viewing the event compared to others, so if you're not in one of those areas, you've either got to settle for a partial eclipse, or make plans to travel to one of the areas that are supposed to experience a total solar eclipse.
Vox reported that the "totality" — or, the area where the sun will be completely blocked out by the moon — is just 70 miles wide, and the site provides a report on what you'll see based on your zip code. The page includes an interactive map of what you're likely to see in the sky, and when.
But if you'd like to know where to get the best view of the solar eclipse, there are plenty of resources to help you out. Space.com, for example, has information on where to see the total solar eclipse by state, with slides on each state where at least part of the total eclipse will be visible.
For example, Space.com reported that in Wyoming, Yellowstone National Park lies almost completely outside the path of totality. So it's not a great bet if you were thinking of heading there to watch the eclipse.
Vox reported that in Salem, Oregon, people will be able to see a total eclipse. Downtown Los Angeles, California, on the other hand, will see 62 percent of the sun blocked during the eclipse's best viewing time.
TIME reported that in the lucky little town of Goreville, Illinois, with a population of 1,067 people, the eclipse will last for the longest period — more than two-and-a-half minutes. So technically, that's probably the best place to watch the solar eclipse.
But there are other places that should be great to watch the total solar eclipse too. Eclipse 2017 has a bunch of maps of the path of totality, and the site reported that in some cities, what you'll see can literally depend on what part of town you're in.
Eclipse 2017 noted that, in particular, people in Columbia (both Missouri and South Carolina), Rexburg, Idaho; Lincoln, Nebraska; North Platte, Nebraska; Paducah, Kentucky; Grand Island, Nebraska; and Casper, Wyoming "won't even have to leave home" to get an amazing view of the solar eclipse.
As noted in the tweet above, when it comes to watching the solar eclipse, location is key. But NASA and other organizations and websites are ready to help you figure out the best place to watch the solar eclipse, whether it means driving 10 hours, or walking out your front door.
Just make sure you're wearing the right shades for the big event.