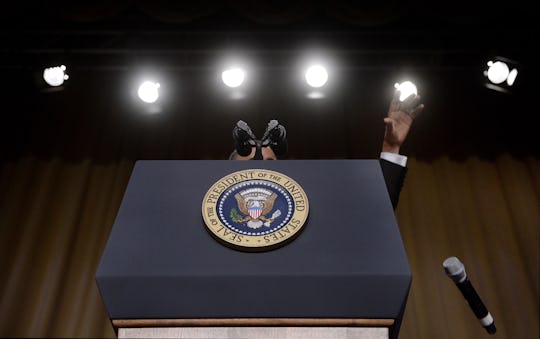 Pool/Getty Images News/Getty Images
Where To Watch The White House Correspondents' Dinner
In case you weren't aware, our current president is a bit at odds with the media, and press in general. Well, besides Fox News. However, President Donald Trump's unprecedented dismissal of the news and many reputable news sites has cast an expectant gaze upon the upcoming White House Correspondents' Dinner. The annual dinner is typically attended by all the major news outlets with White House credentials, as well as the president himself. However, Trump has distanced himself from this year's dinner, opting instead to hold a rally in Pennsylvania. But the show must go on, so, where can you watch the White House Correspondents' Dinner? It will be online, as well as broadcast live.
The White House Correspondents' Dinner will be broadcast by C-SPAN on live television, as well as C-SPAN's website. The great news? You don't need a cable account login in order to watch the dinner online. There will also likely be clips of the event will be available the next day, although that is just speculation.
Late-night comedian, Samantha Bee, will also be hosting a spin-off of the event, fittingly titled, "Not The White House Correspondent's Dinner." This, on the other hand, will be broadcast to TBS, and also on Twitter.
The actual White House Correspondents' Dinner, though, will only be limited to C-SPAN, so if you're looking to watch anywhere else, you might be out of luck.
The White House Correspondents' Association, which throws the annual dinner, uses the opportunity to give out journalism scholarships, as well as awards to journalists who are breaking ground where it counts. According to the WHCA website, "Greg Jaffe of The Washington Post, Edward Isaac-Dovere of Politico, and David Fahrenthold of The Washington Post," are this years winners of the "prestigious awards."
Of course, as the event is highly anticipated this year due to Trump's notable absence, it's likely that the official dinner will be live-Tweeted by major organizations, despite its lack of online accessibility.
And as freedom of the press is an issue that has unfortunately been more at stake during this presidency than has before in recent years, this occasion is especially important. In a time when "fake news" and "alternative facts" rule way too many news feeds, true journalists who are fighting for the truth deserve to be recognized. And even though the president will be celebrating himself instead of attending, the White House Correspondents' Dinner still matters, perhaps more now than ever before. So, tune in if you can, and follow along if you can't. Journalists fight hard to bring the public the truth, and that's as good a reason as any to celebrate.