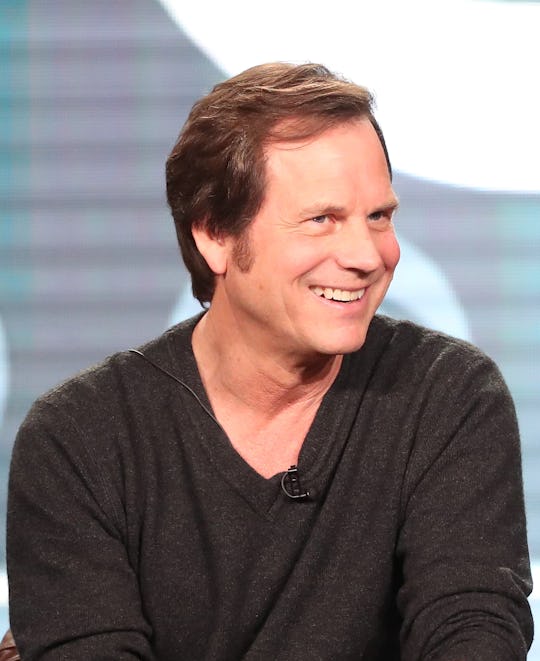 Frederick M. Brown/Getty Images Entertainment/Getty Images
Bill Paxton In 'Titanic' Will Take You Back
On Sunday, beloved actor Bill Paxton died at the age of 61 due to surgery-related complications. Paxton starred in many films throughout his career, but some fans might know him best from Titanic, where he played the character Brock Lovett. If you're looking to find out where to watch Titanic in honor of Bill Paxton's career, look no further — there are quite a few places where the legendary 1997 film is available to watch online.
While Paxton was not the film's centerpiece by any means, he did steal the show in his scenes when he was on screen, as a modern-day deep sea treasure hunter searching for the Heart of the Ocean diamond necklace in the wreck of the sunken Titanic. The film was a huge success at the time of its debut, winning a record breaking 11 Oscars at the 1997 Academy Awards. According to Entertainment Weekly, Paxton knew the film would be a hit, telling the magazine, "I had shot my scenes and I went down to visit Jim [Cameron] in Mexico. There he was on a construction crane, and there were 600 extras scrambling toward the stern. I'm just going, 'Oh my god!' I knew this was going to be huge."
The now 20-year-old film is worth spending a night in, revisiting its epic tale of undying love. Unfortunately, the film is no longer available to stream on Netflix, despite it being available to stream on and off the website throughout the years. However, if you're willing to spend a few dollars (because lets be honest, its definitely worth it), you can find the movie on a few other websites to rent or purchase a digital copy.
YouTube
The three-hour film is available to rent for $2.99 from YouTube — and must be finished within a 48 hour period or purchased for $7.99.
Amazon
Paxton's legendary role in the film can also be rented on Amazon for $3.99 or can alternatively be digitally purchased on the website for for $8.99. Amazon is the perfect for those who use Amazon Prime more than they go to Target and have their credit card information already filled out on the website.
VUDU
Vudu, a streaming service which has an app available to download on both iOS and Android devices, has the movie available for renting and purchasing purposes. Vudu users can rent the film for $2.99 or purchase a digital copy for $7.99
Google Play
If you're more of a Google person (because who doesn't use Google or Google services a hundred times a day?), you can rent or purchase the film on Google Play — which allows for users to watch the film on their laptop through Chromecast, Roku, iOS, and "most Android devices." If you're looking for higher quality, Google Play has an HD version of the film available to rent for $3.99 or purchase for $8.99.
iTunes
For Apple loyalists, purchasing or renting the film on iTunes might be their best option. The film is available to rent for $3.99 or can be purchased for $9.99 and watched over and over again on all Apple devices. Purchasing the film on iTunes also gives access to iTunes extras — like a featurette with commentary from director James Cameron and a behind the scenes look into the film. That's worth it for anyone who ever had a crush on Leonardo DiCaprio or someone who crie every single time the film ends.
For Bill Paxton fans looking to revisit the best roles of his career, watching the very epic Titanic is a great place to start.