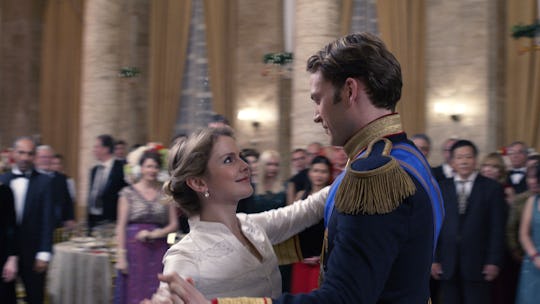 Netflix
Fans Of Princess Rom-Coms Might Recognize The 'A Christmas Prince' Location
From American journalist to future Aldovian queen, Amber Moore takes a big leap from A Christmas Prince to where she is in the sequel, metaphorically speaking. Arguably the Netflix holiday film of 2017, the rom-com depicted a tale as old as time: Girl travels to foreign country and woos prince while undercover, trouble ensues, but she fixes it all in the end. But physically it looks like she stayed put. If you're asking yourself where was A Christmas Prince: The Royal Wedding filmed, I've got your answer.
Like the first film, the sequel was filmed in Romania. A Christmas Prince was, apparently, one of many movies filmed at Peleș Castle, which is a popular site for this very specific niche of royal holiday TV rom-coms, having served as the backdrop for A Princess for Christmas (2011) and A Prince for Christmas (2015). Yes, these are all different movies (though with fairly similar outcomes). So why Romania? Well, it seems to act as a generic European location. A Princess for Christmas is set in the very real-sounding Castlebury, while A Prince for Christmas takes place in mostly in the U.S., but the castle is used for scenes shot in the eponymous prince's homeland of Balemont. I guess fictional countries share decorators?
It looks like you'll have to watch the movie to actually see the location and however it may have changed from the first movie. Despite a lot of digging there don't appear to be any photos from the set in circulation. The closest thing I was able to find is this Instagram post from star Rose McIver (who plays Amber). It was posted on May 15, which is around when A Christmas Prince: The Royal Wedding began filming. Though the country of origin isn't exactly obvious to just anyone, several commenters wrote that the photo was, in fact, taken in Romania.
As soon as the sequel was announced, stars McIver and Ben Lamb (who plays Richard) took to Twitter to help spread the news.
From the trailer, it looks like most of their time is spent in Aldovia. Future queen Amber is having doubts about the way her fairy tale is turning out — she's in this for love, not a crown, and there are certain expectations that come with the throne. Meanwhile, now-King Richard is dealing with his own King-related stuff. As the wedding planning ramps up, Amber takes solace in the comfort of her blog, but that's one of the many things she's being asked to give up by marrying into the royal family.
Are they going to make it down the aisle? My bet is "yes," but likely with some stipulations. Regardless of the end, you can get a glimpse inside the Romanian castle and the life of an American-turned-royalty à la Meghan Markle when you watch A Christmas Prince: The Royal Wedding on Netflix.
This first-time mom wants to have a home birth, but is she ready? Watch how a doula supports a military mom who's determined to have a home birth in Episode One of Romper's Doula Diaries, Season Two, below. Visit Bustle Digital Group's YouTube page for the next three episodes, launching every Monday starting November 26.