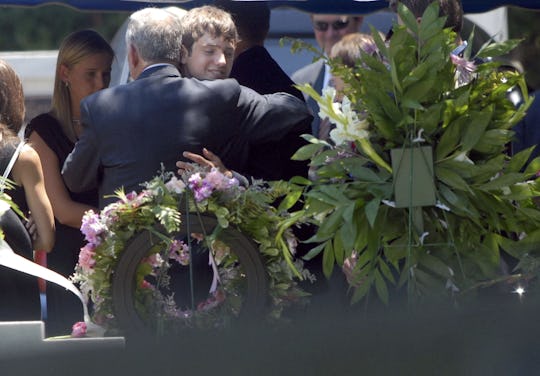 Barry Williams/Getty Images News/Getty Images
Where Was Burke Ramsey On The Night JonBenet Ramsey Was Killed? He Was In The Family Home
Burke Ramsey was only 9 years old when his younger sister, JonBenét Ramsey, was found murdered in their Boulder, Colorado home on Dec. 26, 1996. Despite his young age, Burke was caught up in a firestorm of speculation following his 6-year-old sister's untimely death. The murder of JonBenét created a media frenzy and Burke, along with his parents, were unfortunately subjected to the court of public opinion. A popular conspiracy theory stated that Burke allegedly killed his sister and his parents covered up his crime to protect him. Both Burke and his parents have since been proven innocent by DNA found at the crime scene. Burke has remained extremely private in the two decades since his sister's death, however, he has recently begun to open up about the tragedy that changed his family's life forever. The night JonBenét Ramsey was killed, Burke was present at the Ramsey family home and he's finally revealing his side of the story.
As the 20th anniversary of JonBenét's still-unsolved-murder approaches, the crime is being revisited in a series of six different television events. From a scripted Lifetime movie to the true crime CBS docu-series, it seems no facet of this mystery will go unexamined. As a result of his sister's death emerging into the sphere of popular culture once again, Burke Ramsey has decided to do his first ever sit down interview with Dr. Phil.
In the three part interview, JonBenét's older brother will recount his memories from the night of her murder, as well as the events immediately following. Burke revealed that he remembers his mother, Patsy Ramsey, frantically searching his room for JonBenét after she realized her daughter was missing. Dr. Phil also showed the tapes of Burke's police interrogation in the aftermath of the crime. The never-before-seen footage was also shown in a new A&E documentary called The Killing of JonBenét: The Truth Uncovered.
In both his debut interview and the A&E documentary footage, Burke revealed that he remained in his bedroom in the Ramsey family home while his parents called the police and continued searching for their missing child. He told the police that were questioning him that he remembered his mother allegedly "going psycho" and that he was "so scared." It wasn't until he was brought to a family friends' house that he claimed he was told his sister was "in heaven." Romper reached out to the Ramsey family's representation regarding Burke's claims but did not hear back at the time of publication.
Burke has long been a major part of the public discussion surrounding JonBenét, however, his recent interview was the first time he addressed the suspicions surrounding him and his parents in the wake of his sister's death. "I know people think I did it; that my parents did it," Burke revealed to Dr. Phil. "I know that we were suspects." Despite the speculation, Burke told Dr. Phil he wanted to do the interview to honor his sister's memory. Romper has reached out to Dr. Phil McGraw's representatives for comment on the interview, but did not hear back at the time of publication.
Burke's interview with Dr. Phil premieres on Sept. 12, giving him his long-awaited turn to tell his side of this tragic story.