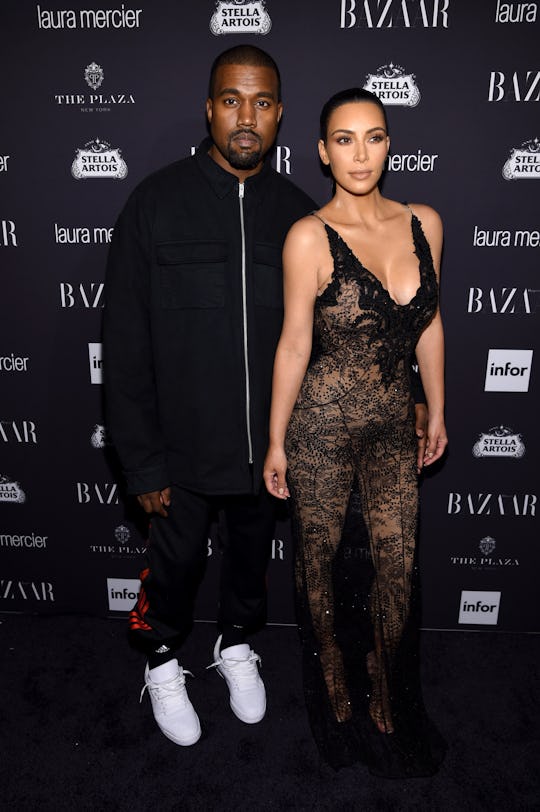 Dimitrios Kambouris/Getty Images Entertainment/Getty Images
Where Was Kim When Kanye Was Hospitalized? She Wasn't Home
News broke late on Monday night that rapper Kanye West had been hospitalized for an undisclosed medical emergency, and according to Page Six, his wife was 3,000 miles away when it happened. A source revealed that when Kanye was hospitalized, Kim Kardashian was on a private jet headed to New York to attend a gala honoring her father, the late attorney Robert Kardashian. It was to have been her first public appearance since she was robbed in Paris in early October. Upon landing in New York, Kim was reportedly notified about West's condition and returned to Los Angeles.
West was taken by ambulance to the Ronald Reagan UCLA Medical Center in Los Angeles on Monday afternoon, according to the Washington Post, and was placed on a psychiatric hold. Details vary widely by outlet; TMZ claims that West was handcuffed to a stretcher following what paramedics described as a "psychiatric emergency." Meanwhile, a rep told People that West, a "notorious workaholic," was simply exhausted and "went to the hospital at will under the advice of his physician" and "was not restrained." Another TMZ report claims that it was West's own doctor who summoned police, characterizing his patient as suffering from "temporary psychosis" and warning the dispatcher of a potential for violence. West's representative hasn't responded to Romper's request for comment.
It's been an eventful week for West, who received boos from the crowd at his concert in San Jose, California on Thursday night when he announced that although he hadn't voted, if he had, he "would have voted for Trump," according to CNN. And on Saturday night in Sacramento, West infuriated concertgoers by arriving 90 minutes late, performing just two songs, and then launching into a nearly-20 minute tirade before abruptly canceling the show. CNN has video that shows West calling out former Secretary of State Hillary Clinton, President Barack Obama, Facebook founder Mark Zuckerberg, and basketball player LeBron James. It's unclear on what his issues with them were.
But West's fans were more angered by his comments about his fellow musicians; according to NBC News, he claimed that Beyoncé "wouldn't perform unless you won Video of the Year over me" at MTV's Video Music Awards, and directed a plea towards her husband: "Jay Z, I know you got killers, please don't send them at my head. Just call me! Talk to me like a man!" West also implored black people to "stop focusing on racism," a stark contrast to comments he's made in the past. While West has always been outspoken and controversial, fans are now wondering if these latest incidents could be signs of an underlying mental illness, and hoping that now that he's hospitalized, he'll get the help he needs.