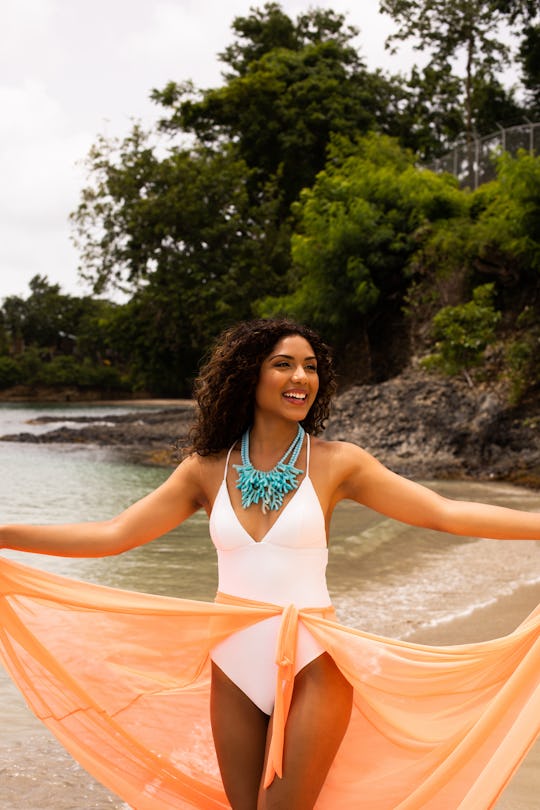 Rose Marie Cromwell/Lifetime
'Married At First Sight: Honeymoon Island' Was Filmed In A Beautiful Locale
In the Married at First Sight spinoff Honeymoon Island, past unmatched contestants and fan favorites travel together to a picturesque locale where they'll find out if they can connect. The 16 romantic hopefuls will either end the eight episode journey married or return to their regular lives alone. The island setting might boost the sense of romance, but where was Married at First Sight: Honeymoon Island filmed? Location is everything, especially if it's the backdrop to your future engagement.
The contestants will be aided in their journey by two experts from the original Married at First Sight, Dr. Jessica Griffin and Pastor Calvin Roberson. But in addition to helping the prospective partners figure things out, Griffin and Roberson have dropped some hints about the exact filming location. According to RealityTVWorld, they mentioned filming a "secret" TV project in St. Lucia. Though their initial social media mentions of international filming spots and island resorts were vague, a photo from Roberson taken in the St. Lucia airport seemed to give it away. Dr. Griffin later posted a throwback pic to her "time on a gorgeous Caribbean island with my colleague, confidante, and pal Cal." The caption was accompanied with a Honeymoon Island hashtag, so it seems the show was definitely filmed in the Caribbean on St. Lucia.
In Touch Weekly got even more specific. According to them, the Honeymoon Island contestants were staying at the St. James's Club Morgan Bay in Choc Bay, St. Lucia. When you go to St. James's Club's website, the Married at First Sight connection is front and center, with a photo of the cast emblazoned across the main page. If you like what you see when the show premieres on Oct. 23 on Lifetime, then you might have found your next vacation spot. St. James's Club Morgan Bay promises that it is "a vibrant, colorful and refreshingly casual All-Inclusive resort in Saint Lucia," continuing:
Distinguished by its romantic beachfront setting just minutes from the world-class Rodney Bay Marina, Cap Estate Golf Course, and capital city of Castries, St. James's Club Morgan Bay offers relaxation, romance and a hint of adventure. The perfect vacation destination for families, couples or weddings, this resort offers a host of beachfront fun and relaxation for everyone.
The Rodney Bay Marina boasts that it is the "premier destination for mega-yachts" on their website, and there's also access to a lot of restaurants on the boardwalk. With the St. James's Club being near the marina, as well as all kinds of options when it comes to vacation entertainment, date nights on Honeymoon Island are sure to be varied and exciting.
Viewers will get to see some familiar faces (plus some new ones, too) in a brand new setting when Honeymoon Island makes its debut. St. Lucia could provide the perfect vacation environment for the cast members to find out if one among their number is their future romantic partner. There may be drama along the way, but that's what makes the trip so fun.