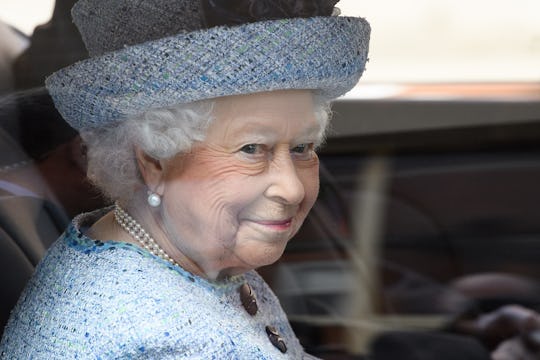 Leon Neal/Getty Images Entertainment/Getty Images
The U.K. Needs Their Strong Ruler Now More Than Ever
An alleged terrorist attack occurred Wednesday outside London's Parliament, which has resulted in 20 people getting injured and four confirmed deaths, including a police officer and the attacker. And while the details of this tragic (and potentially terrorist-based) incident are continuing to unfold throughout the day, many have found themselves wondering where was the Queen during the U.K. Parliament attack? After all, it makes sense that people would be wanting to make sure their fearless ruler is OK after something awful like this happens.
Update: According to the Associated Press, British police late Wednesday evening raised the death toll in the Parliament attack to five. At least 40 people were injured.
As of now, details of Queen Elizabeth II's whereabouts are being kept under wraps. In fact, neither she nor any member of the royal family have yet to give an official response about what has happened, though, I'm sure it's only a matter of time until then. (You can keep checking their official Twitter page here.)
But, in the meantime, be rest assured that Queen Elizabeth has not been reported to be harmed in any way and is most likely in a safe place, away from any danger. If that wasn't the case, we would undoubtedly already know about it at this point in time. Update: a palace spokesman has confirmed that Queen Elizabeth II was at Buckingham Palace during the time of the incident, according to NBC News. She has since released the following statement:
"My thoughts, prayers, and deepest sympathy are with all those who have been affected by yesterday's awful violence," the Queen stated on Thursday. "I know I speak for everyone in expressing my enduring thanks and admiration for the members of the Metropolitan Police Service and all who work so selflessly to help and protect others."
Many will also be happy to know that Prime Minister Theresa May is also safe, according to BBC News, and is scheduled to chair a meeting of the government's emergency Cobra committee later on. In the meantime, Parliament is on an official lockdown.
The Metropolitan Police have so far described the attack as being "a terrorist incident," though many details about what happened still remain somewhat unclear. For his part, President Donald Trump is aware of the attack and has referred to it as "big news," though he may elaborate on that more during other interviews throughout the day or on social media.
Understandably, everyone in the UK is on high alert right now, which is definitely to be expected. And if you're looking for any ideas about how you could potentially support London in the aftermath of this attack, here are a few suggestions.
The attack at Parliament also happened to occur on the first anniversary of the terrorist bombings that happened in Brussels and resulted in the death of 32 people, though it's unclear if this is a coincidence or not. As always, our thoughts and prayers go out to everyone in the UK as we await further updates.