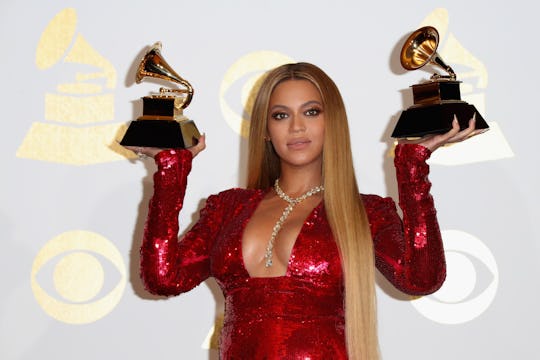 Frederick M. Brown/Getty Images Entertainment/Getty Images
Here's Where Beyoncé Shot Her Birth Announcement
For the past month, the world has been eagerly awaiting confirmation from Beyoncé and JAY-Z about the birth of their twins, Rumi and Sir Carter, and in the early hours of Friday morning, Beyoncé finally delivered: The singer released a photo of the twins on Instagram. The pic is a clear follow-up to her original Instagram pregnancy announcement earlier this year, but there's still a lot that is unclear about the image. Where were Beyoncé's twins photographed, for example? The details of the shoot haven't been shared, but the photo itself does provide some clues.
Given that Beyoncé pretty much broke the internet in February when she announced her pregnancy on social media (it's still the most liked Instagram post ever, according to The Telegraph, although it's not exactly a stretch to assume the newest photo might soon break that record), it's not at all surprising to see that fans are totally losing it over her latest post. But even though they probably would have freaked out over any update Queen Bey shared about her infant twins, the singer clearly had bigger plans, offering up an image that was the absolute perfect response to her iconic pregnancy reveal.
As with the original image, the newest pic also shows Beyoncé posed in front of a floral backdrop, dressed in a veil. But this time, instead of a close-up shot of the singer cradling her baby bump wearing mismatched pink and blue underwear, Beyoncé is seen flawlessly cradling her two infants, the three of them wrapped in cascading fabric with a pink and blue floral print.
When Beyoncé's first released her pregnancy announcement, it wasn't exactly clear where the singer was posing — the blue background in the photo seemed to suggest that it was taken outside, but it also could have been taken indoors against a blue background. Since the newest photo is a full-body shot of a barefoot Beyoncé holding her babies though, it's much easier to see what's actually behind her: hedges, a garden, and what looks to be the ocean in the background. Although it's not known if the two photos were taken in the same location, it seems reasonable to assume that perhaps the most recent photo was taken at their rented Malibu mansion, where the family has been living since just prior to the twins' birth.
According to Variety, Beyoncé and JAY-Z are thought to be renting the 16,000-square foot, 10-bedroom property for an eye-watering $400,000 a month while they adjust to life as a new family of five, and from the sounds of it, it the home certainly sounds like it could have been where the photo was taken. The incredibly luxe home, known as La Villa Contenta, was described by Variety as being "sequestered behind an imposing gate, a forbiddingly high hedge and abundant mature foliage," set "on a high bluff with panoramic coastline views," — perfect, perhaps, for a top-secret newborn shoot?
One person who might know for sure is Awol Erizku, the Los Angeles-based, Ethiopian-American photographer who likely took the photo. Though it hasn't been confirmed that he was the individual behind the shot, People magazine reported that Erizku photographed Beyoncé for her pregnancy announcement — along with the series of breathtaking maternity shots that followed. And given the similarity between the photos? Chances are the newest photo is his work as well.
In fact, one of Erizku's shots from Beyoncé's maternity shoot might help shed some more light on the location of the twins' public reveal. In a photo he took of an underwear-clad Queen Bey posed on top of a red Porsche filled with flowers, it's clear that they are outside in a location that looks a lot like the one in the latest pic. But she's also posed in front of a sky-blue background similar to the background that appears to be in the close-up Instagram pregnancy announcement, which definitely isn't the case in the most recent photo. If Beyoncé did opt to take the photo of the twins at her new home (which makes sense — why go elsewhere when you have newborn twins and your home is already an idyllic paradise?), then it's understandable that the locations would be different, seeing as the couple didn't actually move into the property until recently.
Either way, the photo of Beyoncé with her twins makes it pretty clear that, not only did she totally change the came when it came to celebrity pregnancy announcements, she's actually managed to top her own achievement by introducing her infants to the world with an image that couldn't have possibly been more perfect or meaningful. And hopefully there may be even more incredible photos still to come.