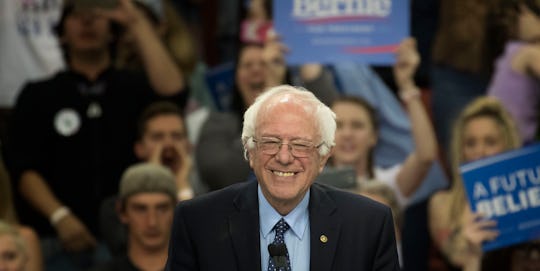 J Pat Carter/Getty Images News/Getty Images
Where Will Bernie Sanders Be On Super Tuesday? The Candidate Will Be Hanging Out With His Biggest Supporters
Super Tuesday is upon us. Yep, by now I'm sure you know, March 1 marks the most important day of the 2016 presidential race so far. Both the Republican and Democratic presidential candidates have been campaigning hard, and those who are struggling are officially out of time to craft new strategies. Vermont Sen. Bernie Sanders is one of these candidates, since it would take a lot at this point to catch up with former Secretary of State Hillary Clinton, who is going into Super Tuesday with a record of four for four in the early primary and caucus states. Of course, now that the day has finally arrived, Sanders and his staff will soon have nothing to do but watch the votes come in with bated breath. So, where will Bernie Sanders be on Super Tuesday?
Turns out the eccentric candidate will be hanging out all day with his biggest supporters. That's right, Sanders is headed home to Vermont, where he is bound to get a warm welcome (although the weather itself will probably be freezing... have you ever been to Vermont in the winter? Brrr).
Sanders' campaign announced Sunday night that the candidate plans to hold a public event at the Champlain Valley Exposition in Essex Junction, part of the greater Burlington, Vermont area, as voting results come in Tuesday night.
Thankfully for Sanders, Vermont residents aren't the only ones "feeling the Bern": Prior to Super Tuesday, Sanders was campaigning hard in the few states where he stands a strong chance of winning, including Massachusetts, Colorado, Minnesota, and of course, his home state of Vermont.
The Essex Junction event — which is being held about eight miles away from Burlington, where Sanders lives — will open at 4 p.m. ET, and in true Sanders fashion, is free and open to the public. The campaign recommends RSVPing, and the rally will be held on a first come, first serve basis.) The Super Tuesday rally will include entertainment, which will kick off at 6 p.m. ET, before Sanders himself is set to speak. Even more exciting, you might recognize some of the names in the lineup.
On Sunday, musician Ben Folds announced on Facebook that he would be performing at the rally. "Those who know me know that I've never put myself wholeheartedly into a public endorsement for a politician," wrote the musician, "but Bernie is a rare candidate."
Sanders' relationship with Vermont and its citizens runs deep. Sanders has represented his home state in Congress since 1991, and prior to that he served as mayor of Burlington during the 80s. And although he traveled all over the country to drum up support in preparation for Super Tuesday — campaigning in the aforementioned states where he stands a better chance at winning — he's now headed home to see if his hard work will pay off with some of his most passionate supporters.
Sanders' Super Tuesday Rally is particularly significant because this will be the first time the presidential candidate has held a large rally event in Vermont since he launched his campaign at the Burlington Waterfront back in May 2015. Even more important, the polls, at least in Vermont, predict a strong Sanders victory: According to Real Clear Politics, Sanders currently has a 75-point lead over Clinton in those polls.
Regardless of how the Super Tuesday results play out for Sanders, he'll be home among those who support him — and whether he knows it or now, that sends a strong message.