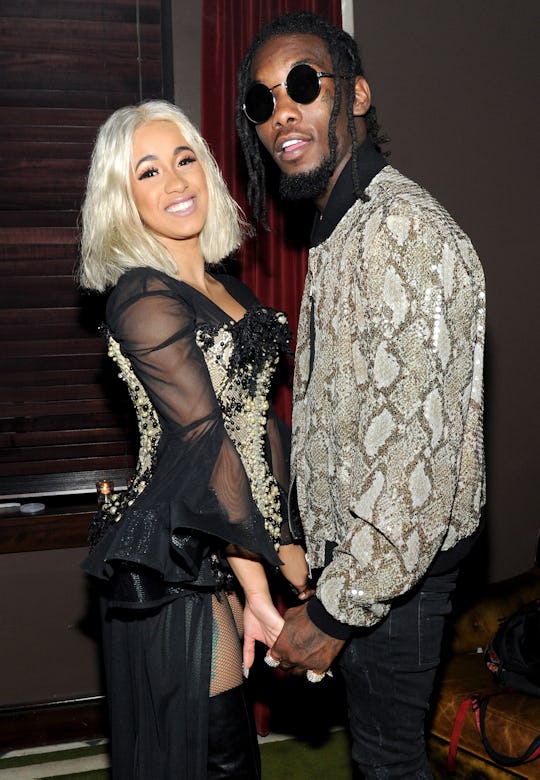 Craig Barritt/Getty Images Entertainment/Getty Images
Here's Where New Parents Cardi B & Offset Might Raise Their Baby Girl
Over the past year, keeping up with Cardi B and Offset's relationship has been a whirlwind. After the couple's pregnancy announcement and secret wedding, fans waited for more news and their patience has paid off. On Wednesday, the couple announced the arrival of their child and now people might be wondering: where will Cardi B and Offset raise their baby?
The couple chose to announce their child's birth in a way that fits them: on Instagram. On Wednesday morning, Cardi B uploaded a nude maternity photo with a colorful floral backdrop captioned, "Kulture Kiari Cephus 07/10/18".
Some people have already noted the uniqueness of Kulture's name. The baby's first name is likely a nod to Offset's work with Migos, as Rolling Out noted, whose most recent albums are named Culture and Culture II. Offset's real name is Kiara Cephus, so it's also likely that's why the couple chose to use a "K" instead of a "C." Kulture is Cardi B's first child and Offset's fourth. As People noted, he has three other children from previous relationships.
Through her career, Cardi B has repped New York (specifically the Bronx) while Offset notably reps Atlanta. "[Offset]'s never comfortable in New York. He loves down south. He told me to move in with him, in Atlanta," Cardi told GQ in an April interview.
So, which city will baby Kulture call home?
It's no secret that Cardi B was born and raised in the Bronx. In 2016, the rapper clarified with a tweet that she's from Highbridge, a neighborhood located within the South Bronx. In the past, Cardi B has credited her experiences growing up in the Bronx with giving her the thick skin necessary for navigating the entertainment industry.
"There's no hood hooder than my hood," she once proudly told i-D in an interview. "I wouldn't be able to rap about the things that I rap about now [if I hadn't grown up there]."
Although Cardi continues to celebrate her New York City roots, it's unlikely that Kulture will grow up in the same neighborhood. In the same GQ interview, Cardi B revealed that Offset wanted her to move into his Atlanta home. "I stayed in his house a couple of times, but it's so hard to live there," the rapper reportedly said before adding, "He decided, though, that we're going to build a house in Atlanta, and that's the house that we're gonna raise our kids in."
On June 27, the couple even threw their baby shower in Atlanta. But, it was with the theme "Bardi Shower: A Bronx Fairytale". Karleen Roy, the event planner, described the theme to Vogue as "a magical and imaginary Bronx land fit for the quintessential baby girl...only this time there is a plot twist in this lavish story: It's a magical, whimsical land, but for the culture!"
At the event,Vogue reported there were subway car replicas and, most importantly, a neighborhood staple: the bodega. The Bardi Baby Bodega catered more to children, with baby bottles and diapers.
Given Cardi B's previous statements about Offset's desire to raise their baby in Atlanta, and the fact that they threw a baby shower there, it seems likely that's the city where the couple will settle down. The baby shower's theme, though, definitely shows that Cardi still plans on introducing baby Kulture to aspects of the Bronx life however she can.
Regardless of where the couple decides to permanently settle down, it's exciting to watch as their family begins to take shape. And fans wish both Cardi B and Offset the best of luck as they transition into parenthood!