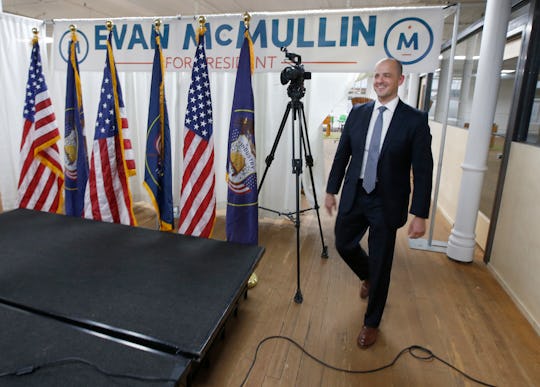 George Frey/Getty Images News/Getty Images
Where Will Evan McMullin Be On The Ballot? The List Of States Has Grown
The 2016 presidential election was poised to be unique right from the beginning, since it's uncommon to have neither an incumbent president nor vice president running. That's just the tip of the iceberg, though: Historically conservative newspapers are endorsing Democratic candidate Hillary Clinton; Republican nominee Donald Trump has made unprecedented statements about the legitimacy of the election itself; traditionally red states like Arizona and Texas are in play for Clinton... the list goes on. And yet, Trump and Clinton aren't the only ones making waves this year. Utah, another Republican mainstay, might actually elect a non-Republican presidential candidate for the first time since 1964, according to CBS News. Said Independent candidate climbing in state polls is conservative Evan McMullin, who declared his candidacy just two months ago after essentially being drafted by the #NeverTrump movement. But questions remain, like where will Evan McMullin be on the ballot, what does he stand for, and who, exactly, is he?
When McMullin announced his bid in August, he said in a statement to ABC News that it was time for a "generation of new leadership to step up," especially considering the overall unpopularity of both major-party candidates:
With the stakes so high for our nation and at this late stage in the process, I can no longer stand on the sidelines. Our country needs leaders who are in it for the right reasons and who actually understand what makes this country the greatest on earth … America deserves much better than either Donald Trump or Hillary Clinton can offer us. I humbly offer myself as a leader who can give millions of disaffected Americans a conservative choice for President.
The former CIA counterterrorism officer has an undergraduate degree in international law and diplomacy from Brigham Young University and later earned his MBA at the Wharton School at the University of Pennsylvania. After serving as a Mormon missionary in Brazil, he spent a decade at the CIA, dabbled briefly in investment banking, and eventually became a national security adviser for the House Committee on Foreign Affairs (from which he resigned to launch his candidacy), according to the International Business Times.
Much of McMullin's platform is in line with the Republican Party's current leadership. He says he wants to repeal Obamacare and strengthen the military; he's also adopted the traditional Republican plan to boost the economy and create jobs by lowering taxes and government regulations. Yet McMullin differs from Trump on issues like immigration and trade: According to Mic, he wants to create a path for undocumented immigrants to gain citizenship, and he also supports free trade agreements like the Trans-Pacific Partnership. He identifies as anti-abortion but is unopposed to same-sex marriage.
According to U.S. News & World Report, McMullin is only on the ballot in 11 states: Arkansas, Colorado, Idaho, Iowa, Kentucky, Louisiana, Minnesota, New Mexico, South Carolina, Utah, and Virginia. Voters in an additional 23 states can officially cast their votes for McMullin as a write-in candidate.
A national survey by Echelon Insights in September showed McMullin with 2-percent support, making his rise to the presidency extremely unlikely. The same characteristics that encouraged the United States' two-party system have also thwarted the development of strong third-party candidates, although some say 2016 could have been the year for a third-party presidency. But look at it this way: It's highly probable a vote for McMullin (or Jill Stein, Gary Johnson, or someone else entirely) would siphon votes away from Clinton and help catapult Trump to our nation's highest office.