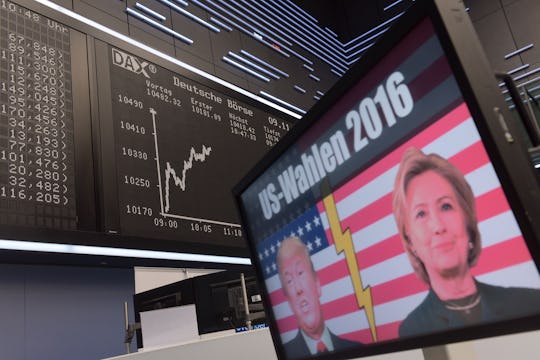 Thomas Lohnes/Getty Images News/Getty Images
Where Will Hillary Speak Following Election Day? She Will Finally Address Her Supporters
Many people across the country are still processing that Donald Trump won the incredibly tight, nerve-racking presidential race. Supporters of Hillary Clinton and/or Americans eager to stop Trump, are digesting the reality of his unexpected win. During Trump's victory speech in the wee hours of Wednesday morning, he noted that Clinton supposedly called him to congratulate him on his victory. But the Democratic Party presidential nominee is expected to deliver a speech to her supporters and the media later Wednesday morning. So, where will Hillary speak following election day? According to CNN, Clinton will speak at the New Yorker Hotel in New York City at 10:30 a.m. Eastern Time.
As CNN reported, it was initially announced that Clinton would speak at 9:30 a.m. Eastern Time, but a press release for Clinton's campaign confirmed instead that that's when doors to the event will open. It's a much-anticipated speech, following a nail-biting Tuesday night, and Wednesday morning, as voters anxiously watched the results pour in from his each state — particularly crucial battleground states like, Pennsylvania, Florida, Michigan, Colorado, and Virginia.
After Trump's stunning win, he congratulated Clinton on a "very hard-fought campaign," according to a transcript of his victory speech, published by The New York Times.
"I've just received a call from Secretary Clinton," he said. "She congratulated us — it's about us — on our victory, and I congratulated her and her family on a very, very hard-fought campaign. I mean, she — she fought very hard... Hillary has worked very long and very hard over a long period of time, and we owe her a major debt of gratitude for her service to our country... I mean that very sincerely."
Celebrities, elected officials, and all voters across the country have taken to Twitter to react to Trump's win. People devastated by the outcome of the race have used hashtags on Twitter like, #trumpnotmypresident, #trumpocalypse to express their dismay – or better yet, complete fear of Trump's troubling campaign rhetoric that affects various demographics of people representing the country.
Tuesday night (technically early Wednesday morning), Clinton's campaign chairman John Podesta delivered the news that Clinton would not be giving her concession speech, as several states were too close to call at the time.
"Several states are too close to call, so we're not going to have anything more to say tonight," Podesta said, according to a report by Quartz.
It's safe to say people around the world will be tuned in to hear Clinton's address. It's quite an outcome.