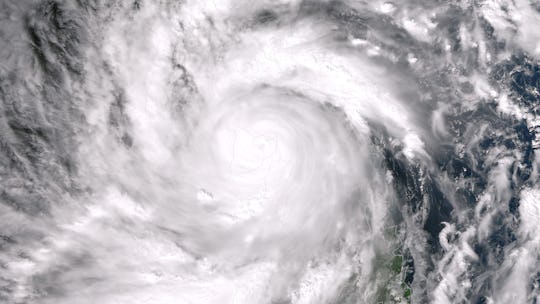 Handout/Getty Images News/Getty Images
Here's What's Known About Hurricane Florence's Path Right Now
The devastating potential impact of hurricanes has become all too real in recent years. That's why we all sit up and take notice when meteorologists start to discuss a new storm brewing. The first major storm of the 2018 hurricane season is currently swirling in the Atlantic, so coastal residents and astute weather watchers all have one question: where exactly will Hurricane Florence hit?
Right now, meteorologists can't definitely state where the storm is going to make landfall in the coming days. That's because it's still too far out to sea and there are factors like winds and ocean surface temperature that are going to change a lot over the next few days, according to CNN. That being said, Bermuda is the first bit of land within the current storm track, and is likely to get at least some of its force by early next week, according to The Weather Channel.
Models on both the American and European systems, according to The Washington Post, have shown Hurricane Florence possibly impacting the East Coast of the United States as well as the possibility that it will make a sharp northward turn and swing back out to sea. If the storm does make landfall, the average of all models shows it impacting somewhere near the North Carolina's Outer Banks, probably between Wednesday and Friday of next week, according to AOL.
A meteorologist for NBC News affiliate, WWBT, in Virginia noted the difficulty of predicting these kinds of storms when they're still far out to sea. According to WWBT, he explained that just the European storm modeling system uses 51 different points of data to generate their storm path predictions. With each variance in the initial data used, the track of the storm changes. And that's just for the European modeling; there are also U.S.-based modeling systems that provide meteorologists potential tracks, according to ABC News.
In short, there's just too many variables right to provide any kind of clear guidance. This visual aid, below, shows just an example of a few potential models:
When Hurricane Florence first became a concern, it was rated as a Category 4 storm, according to Marshall Shepherd, a meteorologist writing for Forbes. As of today, Sept. 6, thanks to some wind shear that is interrupting its rotation, Hurricane Florence has been downgraded to a Category 1, but it is expected to pick up more force as it moves west, according to Shepherd's reporting in Forbes. By Monday, the National Hurricane Center expects that Florence will be back in the Category 3 range, as reported by The Washington Post.
While residents wait for more guidance on the storm, the one thing that any meteorologist might advise is reviewing the emergency preparation plan for your family or home. The Department of Homeland Security provides a list of items that should be in any disaster preparedness kit, including water — one gallon per person per day for at least three days —non-perishable food for three days, a battery-powered or hand crank radio, a whistle, manual can opener, flashlight with extra batteries, first-aid kit, and more.
For a family plan, the National Hurricane Center advises documenting what each member of the family will do in the event of an emergency, including what to do if people are separated, or if a storm hits while a family is apart for work or school. Also, don't forget to make a plan for how you'll evacuate or care for pets if the need arises.
The National Hurricane Center is also warning that regardless of where the storm makes landfall, starting this weekend the U.S. mainland will begin to see large swells, so surfers and swimmers should keep that in mind.
It may not be time to get worried about the impact of Hurricane Florence just yet, but keep an eye on things for the next several days. These storms are fickle, and nobody wants to be caught with too little, too late.