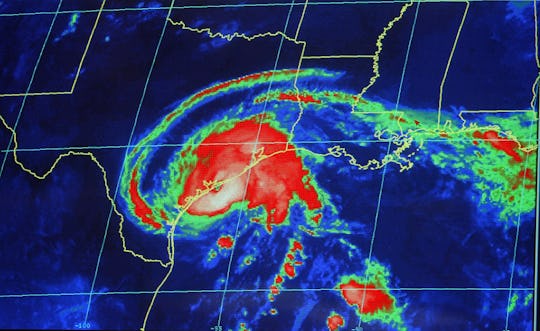 Joe Raedle/Getty Images News/Getty Images
Here's What To Do If You're In Hurricane Harvey's Path
Luckily, in the United States, hurricane season is relatively short, especially compared to storm seasons in other parts of the world. Unfortunately, though, hurricanes do still impact Americans, and the damage they cause can take years to recover from. So now, with the news that Hurricane Harvey will likely turn into a category three storm, it's time for those in its path to get ready. So, where will hurricane Harvey hit? Those near the Gulf of Mexico should start preparing for landfall.
According to the National Hurricane Center, Harvey is "rapidly intensifying," adding that "preparations along the middle Texas coast should be rushed to completion today." And as the NHC stated, about 300 miles of Texas coastline is under a hurricane warning currently, from Port Mansfield to Matagorda, Texas. The areas north and south of that coastline, including Galveston, Houston, and the Rio Grande valley, are all under a tropical storm warning.
And while a tropical storm warning might not sound as threatening as a hurricane warning, "a potential deluge and subsequent flooding," from Harvey's outer reaches are also possible, according to CNN. So, how can you prepare if you're in Harvey's path? And are there any special preparations to keep in mind if you have kids at home?
First, Check To See If An Evacuation Order Has Been Made For Your City Or County
As with any hurricane, Harvey will bring with it a myriad of threats, and many cities and counties will be calling for evacuations. According to The Weather Channel, "Officials in Calhoun County and San Patricio County north of Corpus Christi issued orders on Thursday, along with the mayors of Rockport, Port Aransas, Aransas Pass, Ingleside, and Robstown."
However, it's crucial to check evacuation routes, and make sure that you're prepared, even as you're leaving. Make sure you know where you're going, take your pets and an emergency kit, and make sure your neighbor has a way out as well. Evacuation route information for the state of Texas can be found here.
If No Evacuation Order Has Been Announced, Or It's Too Late To Leave, It's Time To Prepare
First, you need to prepare an emergency kit if you don't already have one. The Federal Emergency Management Agency, or FEMA, has put together a list of items to include in your emergency kit, and it's a great place to start. However, you should also make sure every member of your household is aware of what's going on, especially your kids. Have a plan, and a backup plan or two, in place for what you'll do when the hurricane or storm hits.
Kids will probably be pretty afraid of what's going on, so make sure they know that there is a plan, and that sticking to it will ensure everyone's safety.
Once The Storm Hits, Make Sure Your Home Is Ready
As a hurricane gets closer, it's important to make sure your household is ready for the strong winds and potential water damage. FEMA recommends the following:
Cover all of your home's windows.
Install straps or additional clips to securely fasten your roof to the frame structure. This will reduce roof damage.
Be sure trees and shrubs around your home are well trimmed so they are more wind resistant.
Clear loose and clogged rain gutters and downspouts.
Reinforce your garage doors; if wind enters a garage it can cause dangerous and expensive structural damage.
Plan to bring in all outdoor furniture, decorations, garbage cans and anything else that is not tied down.
Determine how and where to secure your boat.
Install a generator for emergencies.
If in a high-rise building, be prepared to take shelter on or below the 10th floor.
But that's not all. An energy company in Texas has issued a checklist for those in Harvey's path to take heed of, regarding electrical components around your house. Remembering to stay away from downed power lines, and knowing where any natural gas lines are on your property are all especially important to remember during and after a hurricane.
Most Importantly, Stay Together
Hurricanes are scary, that much is obvious. But in the midst of disaster, it's crucial to remember to stay together as a family, or as friends, or as neighbors. Make sure you're staying tuned in to local media outlets reporting on the storm, and have proper access to weather updates as well. Hurricanes can be devastating, but being prepared can make them easier to deal with.