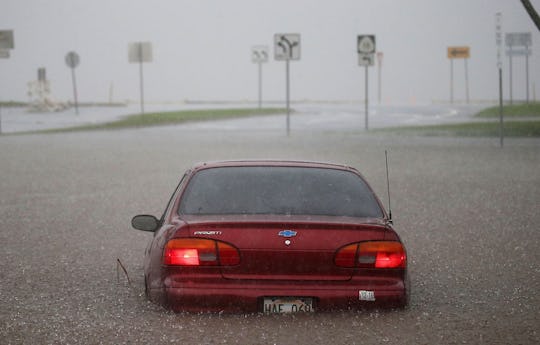 Mario Tama/Getty Images News/Getty Images
Here's Everything You Need To Know About Hurricane Lane's Path Toward Hawaii
The United States weathered some terrible hurricanes in 2017. Texas and Louisiana endured Hurricane Harvey in late August, while Hurricane Irma battered parts of the Southeast in September. But the devastation took an even worse turn when Hurricane Maria made landfall in U.S. territory Puerto Rico on Sept. 20, leading to the deaths of more than 4,600 people, according to USA Today. Unfortunately, it looks like 2018 is gearing up to be another difficult hurricane season as Hurricane Lane, a category 4 storm, is headed towards Hawaii. Of course, people have a lot of questions about the powerful weather event, including where will Hurricane Lane hit. As of Thursday, Hurricane Lane is expected to "move very close to the main islands or cross land Thursday through Friday," and it was "200 miles southwest of Kailua-Kona on the Big Island" this afternoon, CNN reported.
The tricky thing about hurricanes is the quick rate at which they change. Hurricanes are notorious for changing direction, speed, and strength in a matter of hours. Subsequently, it can be a bit difficult to predict where each hurricane will make landfall, a phenomenon Hurricane Lane isn't exempt from. The good news? Forecasters projected on Thursday Hurricane Lane won't make direct landfall on any of Hawaii's islands because its path shifted west, according to ABC News.
Although it's a relief Hurricane Lane has changed course, it doesn't mean Hawaii is in the clear. As of Thursday, the Big Island — home to Honolulu — was hit by the storm's intense outer rain bands. All throughout the day, the Big Island's citizens struggled with flash floods and landslides. In fact, "more than 19 inches of rain fell on a northeastern section of Hawaii's Big Island during a 24-hour period," CNN reported.
What's even more concerning for residents is Hurricane Lane's slow speed. Although it might not hit Hawaii's islands directly, the storm will travel very slowly as it moves alongside the island chain, leading to prolonged and intense flooding.
"I despise slow-moving tropical cyclones, and #Lane will be another one for the next 2-3 days," Hurricane Expert at The Weather Channel, Dr. Rick Knabb, said in a tweet. "All Hawaiian Islands are on the stronger, wetter side of the hurricane, and the terrain will enhance rainfall and bring water and debris downslope. Potential flooding disaster."
Throughout these next few days, it's important for Hawaiians to follow the advice of government officials. "Flash flood warning means that flooding is imminent or occurring in streams, roads, and low lying areas," Hawaii's Governor, David Ige, said in a message on Thursday. "Move to higher ground now. Do not cross fast flowing water in your vehicle, or on foot. Turn around, don`t drown. Stay safe! #HurricaneLane."
Additionally, make it a point to find out if you're in an evacuation area and locate all of the shelters near your home. The Red Cross has organized a list of shelters, while the Hawaiian government's website features an interactive map for residents to stay up-to-date about evacuation areas.
Another important thing to keep in mind is Hurricane Lane's intensity. Although the 130 mph storm is expected to graze the islands, it doesn't mean the potential for disaster is non-existent. "The center of Lane will track dangerously close to the islands Thursday through Saturday," the National Weather Service's Honolulu office reported. "Regardless of the exact track of the storm center, life threatening impacts are likely over some areas as this strong hurricane makes its closest approach."
The best advice for Hawaiians right now is to keep tabs on Hurricane Lane's path throughout the next few days while also preparing for the worst. You can never be too safe, so be sure to listen to any instructions from government officials and emergency organizations.